A Quarter Of Nagorno-Karabakh's Population Flees To Armenia Fearing Reprisal
As many as 28,000 people have been forced to flee the region due to horrific violence.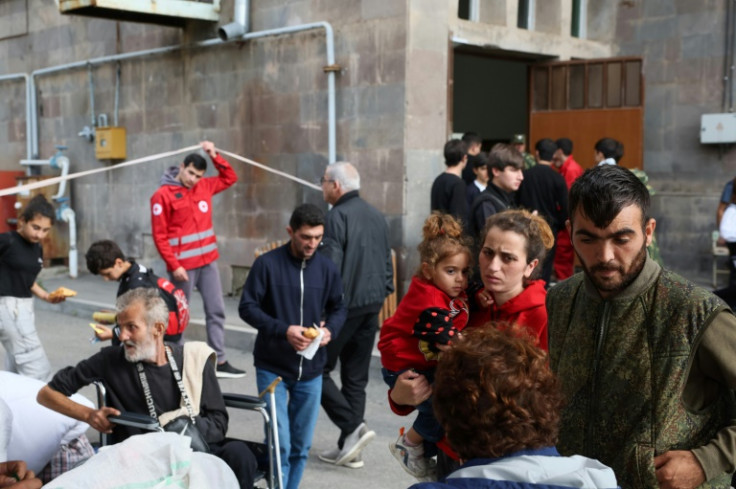 About 23% of Nagorno-Karabakh's population has fled to Armenia after Azerbaijan launched a military offensive in the region last week.
A report in The Guardian claimed that as many as 28,000 people have been forced to flee the region due to horrific violence.
Hundreds of people have sustained injuries, and hundreds have gone missing in the last few days. Unverified reports of rapes and mass killings have made it to social media platforms, forcing people to flee their homes over ethnic cleansing fears.
The autonomous Nagorno-Karabakh Republic shares borders with Armenia on the west and Iran on the south.
Azerbaijan and Armenia fought a full-fledged war over the enclave after the collapse of the USSR in the early 1990s, which caused at least 30,000 deaths over six years. A ceasefire brokered by Russia in 1994 put an end to hostilities, but international attempts to revive the peace process have failed since then.
Nagorno-Karabakh has maintained de facto autonomy. Azerbaijan keeps claiming the land as its own and considers it an occupied territory, stressing that the self-declared government lacks international recognition.
Nagorno-Karabakh is recognised as part of Azerbaijan by the United Nations, but it declared itself independent nearly 25 years ago. It has been under ethnic Armenians and Armenia's military since the 1991–1994 ethnic war ended in a ceasefire.
Azerbaijan managed to capture some of the territory in and around Nagorno-Karabakh in a second war in 2020. It ended with a Russia-brokered peace deal, following which it deployed a peacekeeping force of about 2,000 to the region.
The Azerbaijani military managed to force Armenian forces to lay down their weapons in a matter of 24 hours. Armenia accused Russia of failing to intervene in the conflict and come to its support. While Moscow said that Armenia only had itself to blame for what transpired last week.
Russia did nothing to come to Armenia's aid apart from issuing a statement condemning Azerbaijan for violating the ceasefire agreement.
Azerbaijan is a much wealthier and larger country than Armenia. It is a major oil and gas exporter with a powerful military. The mostly Muslim country has the backing of Turkey, while Russia traditionally has backed Christian Armenia.
Azerbaijan has given assurance that it will respect the rights of ethnic Armenians in the region, but the locals have no faith in what it has promised. It now remains to be seen if Azerbaijan stays true to its word or if the swift recapture of the region gives way to local resistance.
© Copyright IBTimes 2023. All rights reserved.