Racists are attacking minorities in the US after Donald Trump's presidential win. People have been sharing stories of violence that appear to take a page straight from the Republican's campaign rhetoric.
Police are investigating in Louisiana after a man wearing a 'Trump' hat beat a Muslim woman wearing a hijab the day after the election (9 November). He and an accomplice hit her with a metal object, robbed her, and cursed her with obscenities. Then they stole her headscarf, according to the University of Louisiana at Lafayette campus police.
Update: Muslim student faces action for falsely claiming Trump supporter stole her hijab
The same day in San Diego, California, a State University student had her car stolen after she was jumped by two men in their 20s in the school's parking garage. They "made comments about president-elect Trump and the Muslim community" when they confronted her, said a university police department report.
A black woman from Rehoboth Beach, Delaware, also tells how she was threatened with a gun when pumping gas. Four white men pulled up and started talking about how they wouldn't have to deal with black people much longer, she wrote on Facebook. "How scared are you, you black b****h?" she said one of the men shouted at her.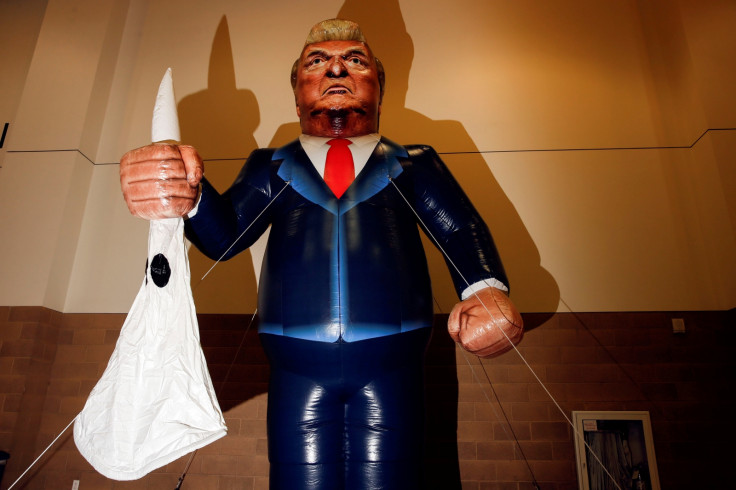 When she ignored him, he shouted "what are you deaf or something you n****r?" Another man then stepped out and "shows me his firearm," she wrote. "You're lucky there's witnesses or else I'd shoot you right here," he warned. The woman said she broke down in tears and called the police. "Is this what America is going to be like from here on out!?"
Trump has a history of racism. In a 1991 book by John O'Donnell, former president of Trump Plaza Hotel and Casino, O'Donnell tells anecdotes about Trump calling his black casino employees "lazy," how he didn't like black people touching his money, and how Jews made the best accountants.
Throughout the 2016 election Trump insulted and threatened Mexicans, Muslims, African-Americans, and other ethnic groups calling them everything from rapists to terrorists. He called for the US to build a giant wall to keep them out, or deport them en masse. His racist rhetoric was so strong that white supremacists, including the KKK's flagship newspaper, threw their support behind him. Trump did little to distance himself from these groups. Following his election win these supporters are taking their message to the streets.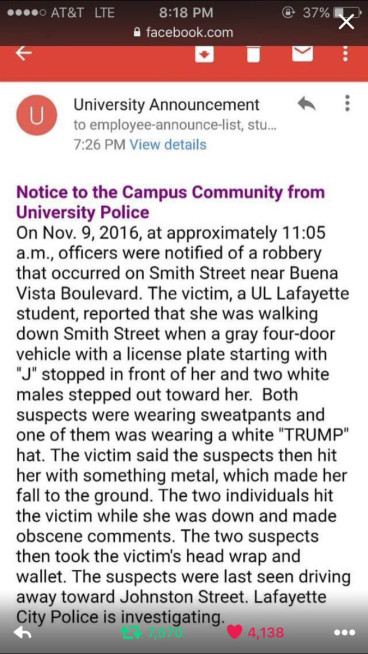 Early in the morning after the election, former Imperial Wizard of the Ku Klux Klan, David Duke, said his followers "have played a HUGE role in electing Trump!"
"We have the moral high ground, 100%!" Duke said. "Donald J. Trump now has the chance to become one of the greatest Americans to have ever lived."
Others are calling on Americans to fight back against this rising tide of violence and intimidation. A little more than 50 years ago African-Americans suffered lynchings, beatings, intimidating cross burnings on their property, along with segregated schools, restaurants and water fountains.
"It's a worrying phenomenon," said Karissa Singh, founder of the anti-racist group Post Ref Racism of this new tide of hate. Her group tracked numerous racial attacks and hate speech directed at immigrants in the wake of Britain's June vote to leave the European Union. After the vote a Polish man was beaten to death in Essex by six teenage boys.
But in America "it's like a whole other level," Singh said, speaking from New York where she now goes to University. "Americans have guns. America is bigger," she said. "It's been very strange to be here. I thought Brexit was bad. I think it's probably going to be on a bigger scale."
Singh is urging figures like Black Lives Matter activist Shaun King to take up Post Ref Racism's social media model. The group aggregates information about hate crimes in one place.
Brexit and Trump will force people to confront racism in their societies, she said. "That's the only way to deal with it. We've been ignoring it for too long," she added. "We've been saying all these people are stupid. How do we understand and work with them?"
A first step, she said, is understanding why people feel so disenfranchised. Exit polling from the election shows that Trump supporters are largely white.
"Many whites are feeling very threatened by the increasing ethnic and racial diversification of America," according to psychologist Brenda Major, a professor at the University of California Santa Barbara. "Donald Trump understands that," she points out in a recent study.
The morning after the election the side of a softball dugout in Wellsville, New York, bore a swastika and the words "Make America white again," echoing Donald Trump's "Make America Great Again!" campaign slogan.
Civil Rights groups are already poised for Trump to begin fulfilling his promises. If he tries to implement any that might infringe on people's constitutional rights "we'll see him in court," said the American Civil Liberties Union.
Singh doesn't believe these initial attacks will be the end of it. The vote for Trump has had "an emboldening effect," she said. "It's all coming to the fore now. You're seeing this being unleashed, and I think it's on a bigger scale."