High school students shouted "cotton picker" and "n****r" at black students in Pennsylvania. At Dewitt Junior High School in Michigan, others barred Latino students from reaching their lockers and said they were working to "make America great again." Other children have been beaten.
Schools across the United States are fast becoming the new battleground following Republican Donald Trump's 2016 election win on Wednesday. Fifth graders — who are 10 to 11-years-old —have even been heard chanting "build a wall!" in Ventura, California.
Video footage shows white students at York County Technical High School in Pennsylvania shouting "white power" as they carry a Trump/Pence campaign poster through the school halls.
"I find it very shocking," said Anne Power, a professor at the London School of Economics who studies disadvantaged neighbourhoods and race relations. "Young people are very impressionable. So it tells us that with all the talk that there's been... and the screaming that's gone with it actually affects their minds."
The outburst of hate in students is reminiscent of how the Hitler Youth were influenced during the Second World War, she said. And although America is "a long, long way from that," she added: "I think it's a big danger sign."
During the 1960s Power, who is white and British, joined the Civil Rights movement in the US. She met Dr. Martin Luther King Jr. and heard him speak and took part in the Selma to Montgomery marches, where protesters were beaten by police.
Afterwards Power moved to East Garfield Park, a ghettoised neighbourhood in Chicago, to see first-hand the conditions black Americans were living in. "It was nothing short of an extremely shocking experience," she said. "The violence. The complete, abject misery. The exploitation. It was just horrible."
Today there is still "huge suspicion and fear" between black and white Americans that exists even after the Civil Rights Act of 1964 ended legal segregation, she said. "For Donald Trump to rush down the middle of that and to accuse Barack Obama of not even being American, it just seems so crazy."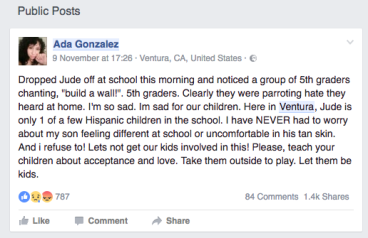 Throughout his campaign Trump also stoked people's fears about Mexican immigrants, casting them as criminals and rapists. He created the campaign slogan "Build the Wall!" to promote his plan for a fortified wall along the border with Mexico. Muslims were cast as terrorists and people who need to be kept out of the US because they don't share the same values and could attack at any time.
What Trump is saying is "put up the shutters and keep others out," Power said. "One of the things that populists do, as we know from Hitler and the history of the Second World War, is they rely on hating the 'other'. That makes the people who are feeling downtrodden feel better."
In an experiment back in March 2016, a professor at the University of California Santa Barbara confronted white voters with information about demographic shifts in the country that show whites will lose their majority status in the country in the next few decades.
"If you're white and you're highly identified with your ethnicity, reminding you of increasing diversity moves you toward [voting] Trump," according to Brenda Major, the psychologist behind the experiment. Feeling threatened pushed white people to "endorse anti-immigrant policies more," she said, whether they were Democrat or Republican.
"The election of Donald Trump has emboldened the forces of hate and bigotry in America," said Senate minority leader Harry Reid in a searing letter about the election Friday (11 November). "Watching white nationalists celebrate while innocent Americans cry tears of fear does not feel like America," he added.
This is the scenario now playing out in American schools too. Dozens of incidents have come to the fore in the days after the vote on Tuesday.
One mother saw her son return from school covered in welts. "Trump supporter's kid did this to my son," she writes, and "told him he can't wait till Trump deports my son". The woman said she called the police and was told the beating was a school matter.
"Aren't you supposed to be sitting in the back of the bus now?" a group of girls from St. Francis Preparatory School in New York are alleged to have asked a girl when they boarded a bus after the election. "Like Trump is president!"
Race relations in America "are very fragile," said Power — especially after the Black Lives Matter movement began in 2013 in response to a series of police killings of young black men. "I do watch with huge anxiety what's going on," she added.