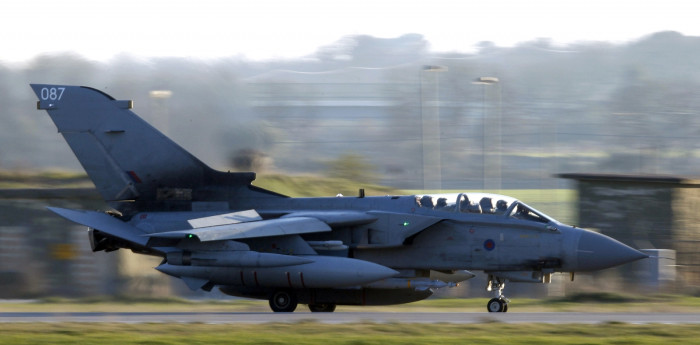 The Royal Air Force has carried out its first strikes on Isis targets in Iraq, the Ministry of Defence has confirmed. Two targets near Rabia close to the Syrian border were attacked to aid local Kurdish Peshmerga forces before the Tornados safely returned to base in Cyprus.
Rabia has been the location of fierce fighting between Isis (also known as Isil or Islamic State) and Kurdish forces. It is seen as a key town due to its proximity to the Syrian border.
In a statement the MoD said: "In the course of an armed reconnaissance mission from RAF Akrotiri, 2 Tornados were tasked to assist Kurdish troops in north west Iraq who were under attack from ISIL terrorists.
"On arriving overhead, the RAF patrol, using the Litening III targeting pod, identified an ISIL heavy weapon position which was engaging Kurdish ground forces. One Paveway IV guided bomb was used to attack the ISIL position.
"Following this engagement, the patrol identified an ISIL armed pick-up truck in the same area and conducted an attack on the vehicle using a Brimstone missile. An initial assessment indicates that both precision strikes were successful."
The House of Commons voted to authorise the use of air strikes in Iraq - but not Syria - last Friday and British Tornados have been flying combat missions since Saturday. Today was the first time the Tornados used their weapons.
Many commentators have expressed doubts that the battle against Isis can be won from the air, but there does seem to be evidence that Kurdish and Iraqi forces are regaining the initiative in a number of towns across the country. A Peshmerga spokesman, Halgord Hekmat, told AFP: "We have pushed ISIL from 30 positions, including in the Zumar and Rabia areas."
Isis are also being squeezed near the border town of Kobane, where an Isis advance forced tens of thousands to flee across the border into Turkey. Now Turkey is considering military action or allowing foreign forces to use its territory against Isis - which would see the terrorist group facing a fresh onslaught.