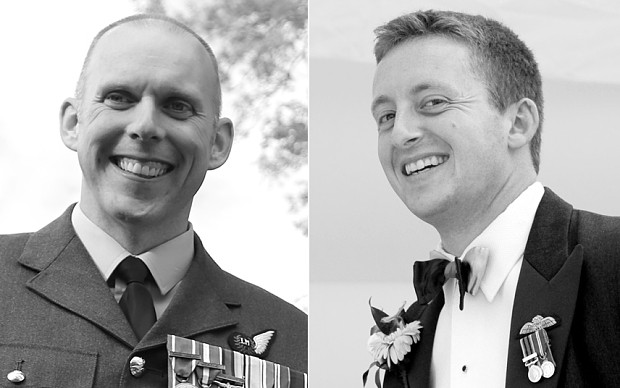 The crash was "an accident and not the result of insurgent activity" said an MoD spokesman, with the two RAF personnel described as "exceptional men" who had a "massive impact" on the force. They were part of the Puma helicopter force based at RAF Benson, Oxfordshire.
The British Puma Mk 2 helicopter crashed on Sunday 11 October while attempting to land at the Resolute Support headquarters in the Afghan capital, Kabul. Two US service members and one French contracted civilian were also killed in the accident.
Station commander Gp Cpt Simon Paterson said Flt Lt Roberts, 44, from north Wales, known to his colleagues and friends as Roly, was "a military man to his core and was the epitome of all that the RAF represents". He was married with two children, with tours of duty in Bosnia, the Falkland Islands, Iraq and Afghanistan. His commanding officer, Wing Cdr Toby Sawbridge, said he was "my 'go to' man for all crewman issues and his honest and direct approach was always welcomed".
Flt Lt Scott, 32, was on his first operational tour with the Puma before he qualified as a tactics instructor in 2016. His wife said her heart was broken that "such a vivacious, young and amazing person can be taken so cruelly and suddenly".
Defence Secretary Michael Fallon said in a BBC report: "The heartfelt tributes paid to Flt Lt Scott and Flt Lt Roberts demonstrate that they were both highly respected and professional members of the RAF.
"Their untimely deaths are a tragedy and my thoughts and deepest sympathies are with their families at this difficult time."
The Ministry of Defence in London said the cause of the accident at around 4.15pm (12.45pm BST) on Sunday was being investigated, and was not because of a Taliban attack, but witnesses said the helicopter had struck a tethered surveillance balloon.
An Afghan security guard who witnessed the crash alleges that the helicopter struck the monitoring balloon as it was landing. The helicopter "hit the cable of the security balloon over the base, It seemed like the cable was turned around the helicopter rotor."