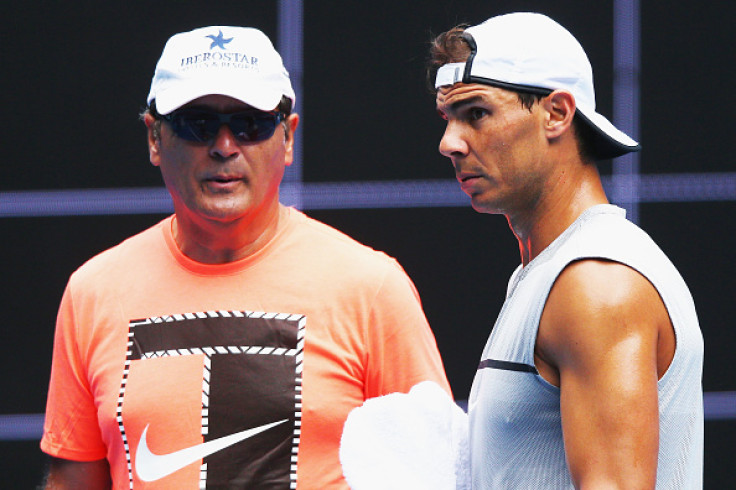 Rafael Nadal has revealed that he respects his uncle Toni's decision not to continue as a coach for the Spaniard, adding that but for him he would have been playing football instead of tennis.
Toni had coached the 30-year-old for 27 years as Nadal quickly became one of the greatest tennis players of all time, winning 14 Grand Slams in the process.
However, Toni ended his role as a coach for Nadal in February, citing that he was involved less in the decision-making process and that he will spend more time at the Rafael Nadal Tennis Academy, developing young players.
Although the senior Nadal revealed that he would still travel with his nephew if he was asked to, the 2017 Australian Open finalist respects his uncle's decision and believes he is ready for the ATP Tour.
"I think I can be ready to be on the Tour without Toni," Nadal said as quoted on TennisWorldUSA. "It's not a revolution, he simply decided not to travel with me anymore and I respect it."
"I will have to find a new organisation without him. I thank him much for everything, but it's not a big change. It's something new, I will have to adapt to it like i did for many things in my life. Our relationship won't change. If he took this decision, he thinks that it is the best thing for him and probably for me too [laughs]."
Touching upon Toni's view that he was making fewer decisions, Nadal stated that it was normal but that he always listened to his uncle's opinions.
"Obviously I am 30 and not 14, it's normal that I take my own decisions about many things," he explained. "But I always listen Toni's opinion or my family. When he says that he is not taking decisions anymore, it's not in a bad way."
"Without Toni I wouldn't have played tennis but football. He has had a strong impact on my game, personality and education. If he asks me to come with me at the Roland Garros next year, I will be happy to be with him. Will he ever be with another player on the Tour? I don't know. You will have to see how it goes with the younger players of the academy. But it will be impossible for him to travel as much as he did with me. He has two sons who play tennis, and they do it very well."
Nadal also spoke about the Miami Open withdrawals of Andy Murray and Novak Djokovic as the Spaniard prepares to face Israel's Dudi Sela in the round of 64 on Friday (24 March).
"Everyone can choose his own schedule, and there are many other high level players as well," he added. "Tennis doesn't depend only on two players."