Rail fares have been rising above inflation for more than 10 years as successive governments have tried to redistribute the cost of the railways from the taxpayer to passengers. On 2 January 2016, a 1.1% average increase in the cost of train tickets in England, Wales and Scotland came into effect, sparking an outcry among commuters who say the quality of services provided does not match the price hike.
British commuters who travel by train now spend up to six times as much of their salaries on fares as European passengers on publicly owned railways, according to a study by Action for Rail. Yet as prices continue to rise, there are ways to find cheaper train tickets and cut travel costs in the UK – and all it takes is some online research and forward planning.
Split tickets
Split ticketing can yield a substantial discount on rail fares. Money Saving Expert has a website and app called Tickety Split that tells you hidden ticket combinations to cut travel costs.
There is a potential catch, though. The train has to call at all the stations you buy tickets to and from. Split-ticketing at stations where you change trains can be a problem if your service is delayed or you have a time-specific ticket, which may result in extra charges.
Buy tickets in a group
Most train companies offer discounts for groups of people travelling together. Groups of three to nine adults can cut a third off their off-peak tickets with participating train-company services with GroupSave.
The companies participating include: Abellio Greater Anglia; c2c; Chiltern Railways; Great Western Railway; Gatwick Express; Great Northern; London Midland; London Overground; ScotRail; South West Trains; Southeastern; Southern; Stansted Express; and Thameslink. Visit the National Rail website for more information.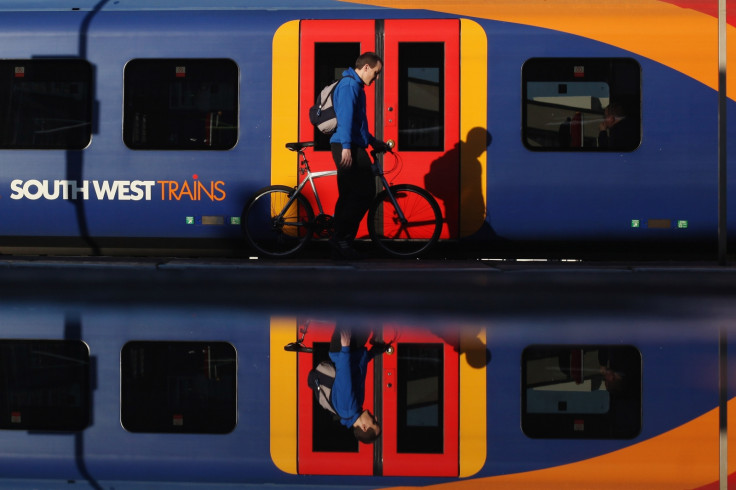 Check out Megatrain
The sister of Megabus offers some of the cheapest tickets on train travel between UK cities. Megatrain offers low-cost inter-city train travel via the Megabus website, on East Midlands and South West Trains – rail franchises owned by Stagecoach group. Ticket prices start at £1 if you book early in advance.
There are routes between London St Pancras, Sheffield, Birmingham, Bristol, Bath, Exeter and Southampton, among others. Cheap split tickets, where part of the journey is via coach, are available from some areas.
Get a railcard
Railcards can slice a third off your train fare. Available at the Railcard site, you can also get discounts on the cards themselves with Tesco Clubcard points and other supermarket reward schemes. Most railcards cost around £30 a year, or £70 for three years – which works out at around £23.30 each year.
Avoid peak times
Although this does not apply to commuters working 9am-5pm, it is best to avoid travelling at peak times, if possible. This means trains arriving before 9.30am or 10am and leaving between 3pm and 7pm. Train operators tend to reduce their cheap train ticket quota in these busy periods.
Book early
Most people know advance train tickets are cheaper, but you can still save money by buying your tickets at the last minute – including the night before or even on the same day. Try Red Spotted Hanky for cheap fares and deals.
Try alternative routes
Competition between service operators means that there are sometimes cheaper train tickets on different routes or where on-board services are less extensive. Travelling between London and Birmingham? Try London Midland for cheaper fares – although your journey may be less direct.
Try different websites
There are a lot of lesser-known sites that can save you money on rail travel. As well as TheTrainline, there is also Raileasy and Takethetrain, which both offer discount fares.