Despite attempts at curbing illegal trade, Zimbabwe's government has said it is facing rampant smuggling of banned goods at its borders.
For years now, Zimbabwe's government has been working at cracking down on smuggled goods, which President Robert Mugabe claims these products have killed manufacturing, the country's once-vibrant industries.
The news comes as the government is seen to be desperate to find ways to alleviate the economic crisis in the country, which imports not less than 75% of all its industrial, manufacturing, agricultural and food requirements.
Most Zimbabweans earn a living from the informal sector, as the country battles with unemployment rates higher than 80%.
In June, the country added more products to its list of around 100 goods prohibited from entering the country – to promote and protect local industries.
These include: bottled water, cereals, salad cream, baked beans, potato crisps, peanut butter, jams, canned fruits, dairy products ( salad cream, coffee creamers, yogurts), cigarettes, clothing, cooking oil, coffee creamers, pizza base, yogurts, mayonnaise, petroleum jellies, toothpaste, detergents and body creams.
Building materials (such as wheelbarrows, steel products and structures, rods, tubes, corrugated steel roofing sheets and plastic tubes) have also been added to the long list of restricted goods, which also includes furniture (beds, wardrobes), fabrics of cotton, second hand tyres, shoe polish and synthetic hair products.
The June ban sparked violent demonstrations at border crossings and in Zimbabwe's main cities, and in August, neighbouring South Africa urged the authorities to either revoke or renegotiate the ban on a number of goods from South Africa, or face consequences.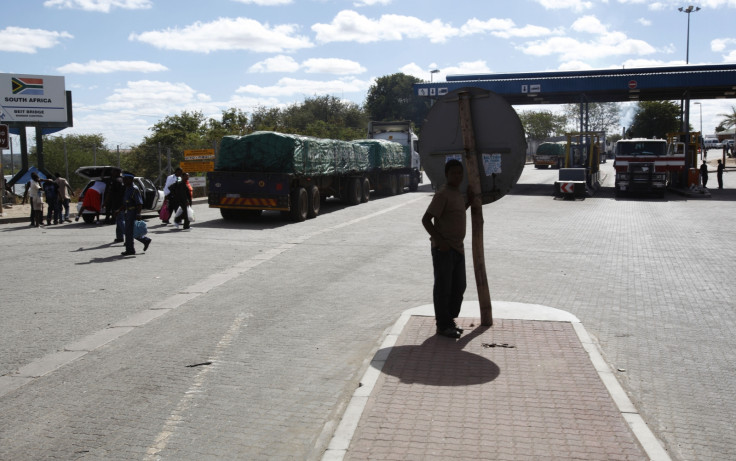 Minister: Smuggling is rampant at Zim's border posts
Industry and Commerce Minister Mike Bimha, who has previously blamed the smuggling of these goods to rampant corruption at the country's borders, in June this year claimed transit truckers were the biggest culprit responsible for significant volumes of smuggled goods entering Zimbabwe.
"We are highly concerned with reports that goods have been filtering in the country despite the import ban we put," Bimha was quoted as saying by local media.
"It can only mean one thing, our borders are porous and we need to do something as soon as possible to put an end to this. As government we came up with the Statutory Instrument in order to protect our local industries and our local products, but there has been rampant smuggling of the same products that we put on restriction list, into the country which leaves a lot to be desired."
In the Zimbabwe Cross Border Traders Association secretary general Augustine Tawanda's assessment, truck drivers smuggle goods by pretending that their cargo is meant for other destinations other than Zimbabwe when they cross border posts.
According to the government, these smuggled goods are cheaper than those produced locally, and flows cost the country $1bn (£0.82bn) in 2015.
"We have discovered that much of the smuggling is done through transit cargo, where people tell us, for example, that a consignment is meant for Democratic Republic Congo when in fact whatever they are carrying is really meant for Zimbabwe," Bimha said in June.
Mugabe's fight to restrict imports
The government has for years tried to put in place stringent regulations in order to control the importation of goods that are manufactured locally.
In 2012, the state banned the importation of second hand underwear –18 years after Ghana imposed the same restrictions – claiming the goods were a health hazard and had killed local industry.
In 2013, the government said it was crafting legislation to restrict imports in order to combat what it considered to be the smuggling of poor quality goods. The same year, closed in the capital Harare, according to the Daily Nation.
Outlining the draft law, Minister Bimha said it would tighten controls and inspection at Zimbabwe's "porous" points of entry. Others measures have included penalties and punitive charges for those found breaking the law.
In June 2016, the government imposed an import ban Statutory Instrument 64 (2016) on a number of basic goods, the majority of which pass through via South Africa. At the time, industry officials warned that the ban would fuel more smuggling. Bimha said that his ministry has recruited members for a special task-force to monitor the border points.
Every country has special conditions governing the import of certain foodstuffs and goods. In the UK, a number of items are banned including personal imports of meat and dairy products from most non-EU countries, drugs and weapons, either because they are dangerous or restricted.