A fiery Zimbabwean cleric, Pastor Patrick Phillip Mugadza, has submitted a petition to Pope Francis pleading with him to excommunicate President Robert Mugabe on the basis of his alleged rampant human rights violations.
Reports of violence and political repression have risen significantly in Zimbabwe, as the nation continues to reel from the political crisis that occurred in the aftermath of the presidential elections held in March and June 2008.
Zimbabwean activists who have survived a wave of violence and abductions have urged the international community to stop turning a blind eye to the increasingly violent crackdown on dissenting voices "linked to (no one) else except the government of Zimbabwe".
In the latest move, Pastor Mugadza – who made headlines when he chained himself to a pole in an anti-Mugabe protest in April this year – deposed a petition at the Vatican embassy in the capital Harare asking the Roman Catholic Church to excommunicate Mugabe, a Catholic.
"We of the above-mentioned nation, hereby hand you this petition asking you to excommunicate the President of the Republic of Zimbabwe, Robert Gabriel Mugabe. The nation and its peace-loving people have been subjected to poverty of unimaginable levels when Zimbabwe is endowed with all minerals discovered so far," read the petition.
Priest Mugadza: 'We beg for your intervention'
In his petition, which was received by the secretary of the Apostolic Nunciature in Zimbabwe Father Gabriel Pesce, Mugadza said Mugabe deserved to be excommunicated as he had trampled on people's rights.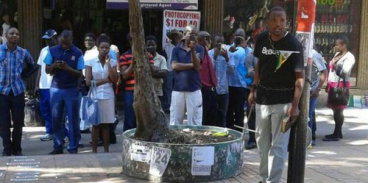 "The situation has been deteriorating for the past 20 years and now the economy is in a free-fall, while the government is on auto-pilot as his age cannot allow him to function as he should. The health and education systems are nothing to write home about, hence, his uncountable trips to Asia for better treatment and his children and those around him have their children out of Zimbabwe" Mugadza's appeal read.
"The president tells us that he is a practising Catholic, hence petitioning you to help our nation before he fulfils his promise of crushing anyone who dares to speak sense. We so very much, Your Holiness, beg for your intervention. We are so very much aware of how you are so compassionate about the oppressed and suffering."
Among many of his public protests, Remnant Church leader Mugadza's staged the #MugabeMustFall prayer for 40 days at Africa Unity Square in Harare, which ended in September. During the prayer campaign, Mugadza – who has called on God to remove Mugabe – urged pastors from different denominations to take turns in leading the 40-day prayer.
Mugabe, 92, denies responsibility for the nation's problems, and his political rhetoric has typically blamed Zimbabwe's economic woes on the "illegal western sanctions".