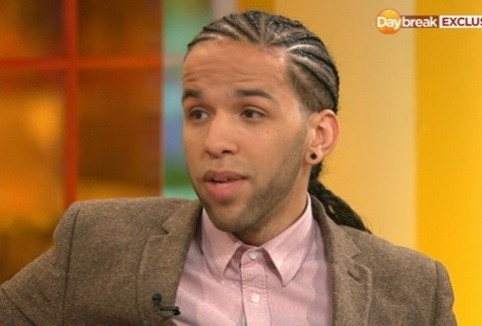 A Brazilian-born rapper has said rape suspects should have the right to anonymity until they are convicted.
Aggro Santos, 24, was cleared of two counts of rape at Chichester Crown Court, but said his reputation had been tarnished by media reports about the charges.
Speaking on ITV's Daybreak, Santos, who appeared on I'm a Celebrity..., said he had been living in a "mental prison" for the last two years.
He said the media wrote about his case as if he had already been found guilty.
"Someone has got to do something about an anonymity law," he said.
"Courts are fair. It is fair to do a trial with a jury. But the people accused have got to be protected until they are found guilty.
"It is terrible because sometimes you do get people who do try to put people in situations like this and then it is not fair when the person has gone through the whole process and been found innocent."
Speaking about the 23 months it took to clear his name, Santos said: "You can work so hard your whole life for something. Then when it starts going well, one little thing like this, in just one second, it's all gone."
Several calls have been made for people accused of sex crimes to be granted anonymity until they are convicted to protect people who are wrongly accused.
Anonymity hinders investigations
Earlier this year Maura McGowan QC, chairman of the Bar Council of England and Wales, told BBC Radio 5 live: "Until they have been proven to have done something as awful as this, there is a strong argument in cases of this sort - because they carry such stigma with them - to maintain the defendant's anonymity.
"But once the defendant is convicted then of course everything should be open to scrutiny and to the public."
In the 1970s, sexual offence defendants were given anonymity and the media was banned from identifying those accused.
The ban was lifted in 1988 after police said it was stopping people from coming forward to report rape.
A case from 1984 also highlighted the problems with giving anonymity to rape defendants. A Yorkshire man accused of rape escaped from police custody but due to the law, they could not publicise his identity.
While on the run, he broke into a family home, murdered the parents and son and raped the family's 18-year-old daughter.
Commenting on the argument in 2010, Ruth Hall, of the charity Women against Rape, told the Guardian: "Being falsely accused of rape is a terrible ordeal, but the same could be said of being falsely accused of murder or fraud.
"We don't want to see men accused of rape getting special protection that people don't get for other crimes. Anonymity for men has already been tried, but then police said it hindered their investigations because they could not put out calls for women who had been raped by the same man.
"This is just another way to try to stop the tide of women reporting rape."