The Islamic State (Isis) has completely shut down Raqqa's education system as it battles to control the hearts and minds of young people in its Syrian city.
The militant Islamic group has also passed an order banning girls from travelling outside Raqqa, and introduced an ultra-conservative uniform for its female citizens.
Any women found to have violated the new dress code, which completely covers the body from head to to, faces a lengthy spell in prison.
The closure of Raqqa's schools marks the culmination of a series of drastic education reforms introduced by IS, which has aimed to turn the city's education hubs into hot-houses for extremist propaganda.
IS leaders previously ordered the strict segregation of students by gender, with all mixing forbidden, and closed both public and private universities. Teachers were forced to undergo a 'legitimacy course' and a range of subjects, including science, sports and philosophy, were banned as they apparently contravene the law of God.
While curbing the freedom and power of traditional schools, the organisation has introduced its own indoctrination 'bootcamps' where children are taught to fight and given lessons in hard-line Islam.
According to one activist, who calls himself Maher Hamoud, Isis and its adherents are "dramatically trying to drag the people of Raqqa to them [and] spread ignorance among the people of the city. This is a big threat to the future of an entire generation of children."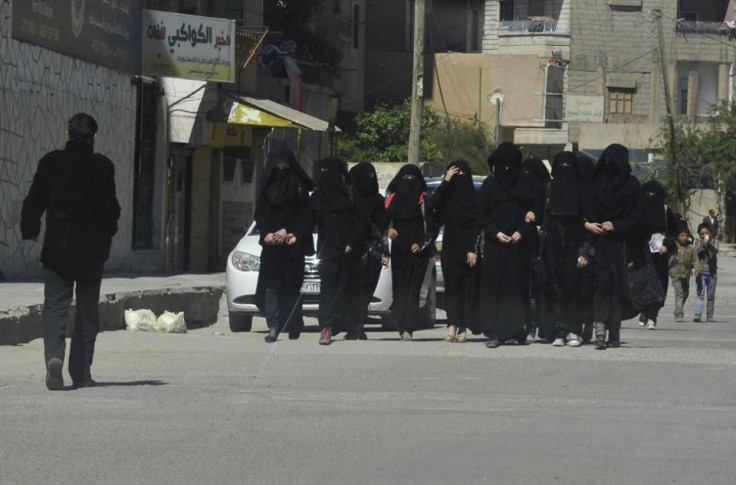 Security crackdown
The new law on women follows an earlier edict which prohibited the egress of any woman under the age of 50. This directive attracted widespread disapproval and the protests have forced IS to modify their order.
The new edict bans "any girl, unless they exceed 30 years old, from leaving Raqqa city whether or not they are with mahram (someone close to the girl such as a father, brother, or uncle)."
Some may believe the new law represents a loosening of IS' repressive approach to women, given that women aged between 30 and 50 will now, theoretically, be allowed to leave Raqqa. However this is offset by the new ultra-conservative dress code, violation of which is punishable with up to a month in jail.
IS is frantically trying to improve its border security to prevent Raqqa's citizens from leaving without permission. The organization, known locally as Daash, has ramped up the monitoring of the various checkpoints dotted around the city, and perpetrated a string of vicious executions, including that of a 98-year-old man who was one of Raqqa's most respected elders.