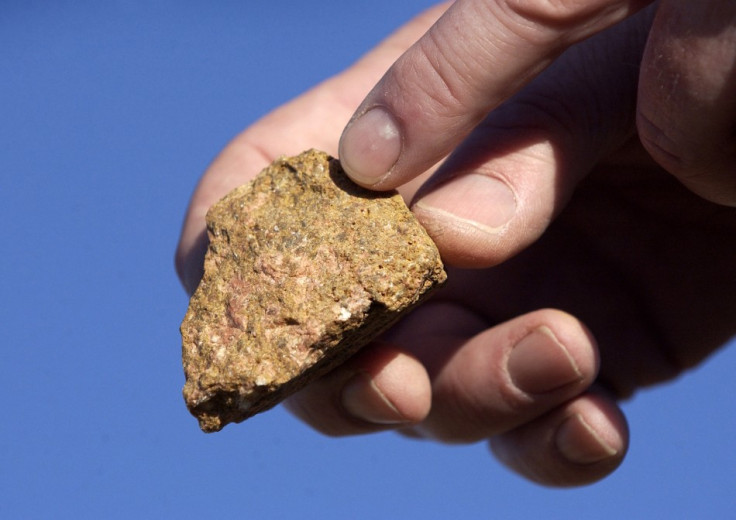 Our flight on the first Friday of November was the third on the departure board out of Edinburgh, the 06.10 Air France for Paris Charles De Gaulle, where we would connect to the airline's flight for Hong Kong. The second on the board was KLM's to Amsterdam, but it was the 06.00 flight that morning that surprised and intrigued me; it was to Greenland. I had seen or read some news snippets on Greenland a short time before and I remembered that one at least concerned oil and BP. I couldn't remember just then what the other one was about.
Seven hours out of CDG with five to go and the flight map on my screen showing me that we had just entered Chinese airspace, it came back to me - a significant commercial deposit of rare earth elements would, after ongoing legal matters are resolved, start operations in 2012 at Kvanefjeld (Kuannersuit in the Greenland language) near Narsaq. With China currently mining 130,000 tons of rare earth elements per year with a value of approximately $2 billion, which represents 95-96 per cent of the world's output, Greenland's large, exploitable stock would prove a welcome addition - not least to China!
China may well have a producer monopoly at present, but it has increasingly restricted its exports over the past three years. Sometimes accused of blackmail due to this dominant position, the simple fact is that China is using ever greater amounts of rare earth elements and oxides (REE/REOs) in its home industries. No doubt I am fairly typical in that my American computer and printer, both my Japanese digital cameras, TV and DVD player - yes, all were made in China, probably in that huge industrial workhouse of 35 million people that girdles the Pearl River Delta. And that is but one such complex of many so that by 2010, China was consuming about 80,000 tons of REE/REOs and expecting to breach the 100,000 ton level by 2012.
Greenland Minerals and Energy Ltd told Pratina Desai of Reuters on 11 November that the company plans to list in London in 2012. Roderick McIllree, managing director of the firm, explained:
"The economic and strategic significance of the resource at Kvanefjeld is only just starting to be understood. This is an orebody that is showing indications of being approximately 40 square kilometres of mineralised material."
A feasibility study carried out in 2010 estimated that the site could produce more than 43,700 metric tonnes of rare earth oxides per year and nearly 3,900 of uranium over a 23-year lifespan. McIllree went on to say that the uranium would itself pay for all the infrastructure and costs of mining and that the site had the potential to supply 25 per cent of world demand.
There is further good news for the Kvanefjeld site in that it has a "relatively high" mix of heavy (as opposed to more abundantly available light) REEs. About 76 per cent of each tonne of multi-element ore contains REOs which by value distribution include lanthanum, cerium, praseodymium, neodymium, terbium, dysprosium and yttrium.
The one dark cloud of late and putting some company plans on hold, is the high volatility in price of REE/REOs. A case in point is Neodymium Oxide, 99 per cent min, FOB China. At the beginning of May this year the price stood at just over $200,000 per mt. In June the price rose to $253,000; in July the price increased further to $280,000 and this held until mid-late August. Then the price tumbled by mid-September to about $230,000 and has settled back to just over $200,000 again by November. Not for the nervous!
Although many if not all these minerals may have unfamiliar names, they have been playing an increasingly important role in industry over the past 60 years. Until the mid-1990s, the single largest commercial deposit of REEs was mined at Mountain Pass, Calif. This source was an 8-12 per cent deposit of bastnäsite from which was extracted cerium, lanthanum, neodymium and europium and gave the USA self-sufficiency until the late '90s. The mine closed in 2002, but its current owners, Molycorp (Molybdenum Corporation) hope to be able to reopen the mine again and upgrade the facilities next year - market conditions going well!
REEs/REOs have been in use in the chemical and steel industries since the 1950s - not to mention the military - and started moving into the domestic sphere when the likes of yttrium found its way into colour TVs and cerium into glass and ceramics. Now cameras, computers, lasers, laptops, arc lighting and a host of everyday uses that we take for granted are made better and easier and sometimes possible, through the use of REEs.
And then there are batteries and other components of the electric vehicles which many in the green lobby hope (or are determined to bring about) will see the demise of the petrol/diesel driven car. It is true that 2012 will see a number of manufacturers release a range of new electric models and that experts within the motor industry predict that between 5-15 per cent of vehicles will be electrically powered by 2020. However, a little caution might be best when reading such a prediction.
Stephen Chen, writing in the South China Morning Post on 11 November under the heading "Electric Car an idea that may have had its day", reported a meeting of officials and experts in the city of Wuzhen, Zhejiang province. The report said the Chinese government was increasingly concerned about "technical difficulties" and the uncertain benefits to the environment on the efficacy of its 100 billion yuan scheme in 13 Chinese cities to promote and subsidise electric cars. That's serious money! Might just hold on to the old petrol car a little longer...