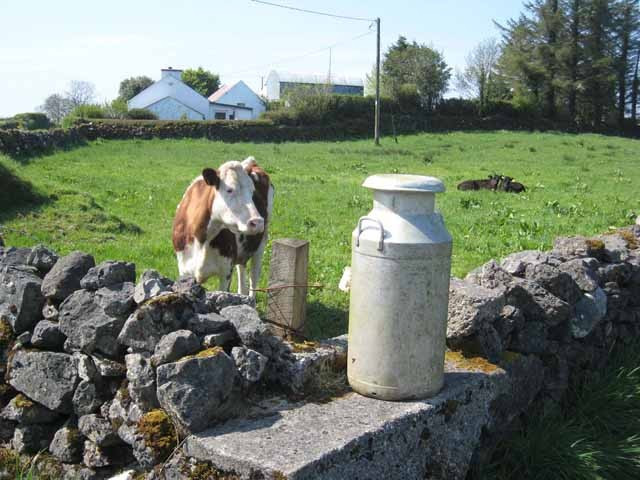 Unpasteurised or 'raw' milk will become more widely available from vendors in the UK, despite advice its consumption is "not worth the risk".
The news follows a consultation to be presented at a Food Standards Agency (FSA) board meeting which found that there was "an appetite" for wider access to the product.
The FSA decided two years ago to review the current controls around the consumption of raw drinking milk (sometimes referred to as RDM) and cream in England, Wales and Northern Ireland.
Shoppers will be able to buy the milk from vending machines in shops under the new recommendations. Selfridges installed vending machines dispensing raw milk in 2011, but they were removed following interventions by the FSA in January 2013.
Vending machines are the best way of making raw milk available to the public while still controlling stock and temperature, the FSA believe.
Currently, raw milk can only be bought directly from farmers and sales are subject to strict controls.
Raw milk is categorised as a product that has not been pasteurised to eliminate harmful germs. It is believed the product's renewed appeal falls in line with the 'real food' movement and a desire for the British public to eat less processed foods.
But bacteria found in unpasteurised milk, cheeses and yoghurts made from it can cause serious infections such as Salmonella, Listeria and E. coli. Comparing it to the risks of food poisoning, an American advisory website on food safety says raw milk is the "riskiest of all".
A study from the Centers for Disease Control in the US in 2012 found that raw milk was 150 times more likely to cause a food-borne illness than pasteurised milk, which can be fatal, particularly for people with weaker immune systems.
The proposals will be voted on by the FSA's ten board members. If no objections are raised, discussions with producers and retailers will begin immediately.
Steve Wearne, director for food safety at the FSA, said: "We are not advising that these controls should be removed completely as they are necessary for continued consumer protection.
"However, we believe the opportunity for us to make changes which balance modest liberalisation of sales with controls on production that ensure continued consumer protection."
RDM farmers claim raw milk tastes better and contains "good bacteria" that can encourage a healthy digestive system. Some also believe it can be more easily digested by lactose intolerant consumers, but recent scientific studies have found no evidence of this.
The FSA recommendations will not affect sales in Scotland, where raw milk is banned completely.