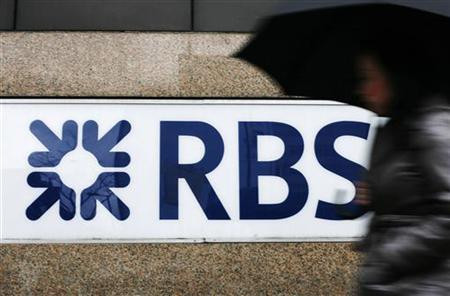 Shares in RBS were up on the FTSE 100 in afternoon trading, despite Britain's largest trade union, Unite, accusing the bank of being a "horror story".
Royal Bank of Scotland today said that it would cutting 3,500 jobs in the United Kingdom, some of which are to be outsourced to America, East Asia and India. The cuts will take the number of people let go by the bank, since being part-nationalised in 2009, to 21,500.
Around 2,500 jobs will be lost at the group's Business Services Operations and 1,000 will go at its Technology Services division.
According to Unite 1,500 of the job losses are down to the sale of 318 RBS branches to Santander, ordered by the EU.
Rob MacGregor, Unite national officer, said, "The news that the Royal Bank of Scotland is to cut another 3,500 staff from across the UK is a horror story.
"It will be a specially bitter pill for staff to swallow as RBS has decided to move some of the jobs abroad to the Far East, India and America.
"Just three weeks ago staff were boosted to hear of the £1.1 billion half year profit yet today thousands of them are told that they have no future at the bank.
"Unite is appalled that this 84 per cent tax payer supported institution has since 2009 - under the banner of a strategic review - cut 21,500 staff.
"The scale of the cuts announced today beggars belief and staff across the country today will be left reeling from this news. We continue to see a financial services sector which thinks the skills and expertise of it's staff are a disposable asset with scant regard for the high level of service these very same staff provide to their customers."
By 15:30 shares in RBS were up 0.39 per cent to 45.98 pence per share.