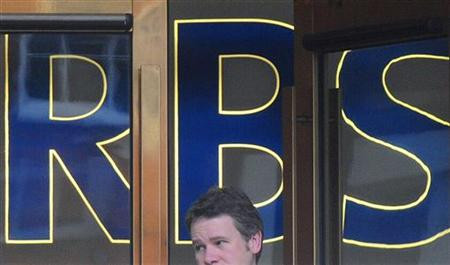 RBS, the Royal Bank of Scotland has lined up three bidders for Worldpay and expects to sell more businesses and branches this year.
The news is lifting shares slightly, although, they remain 24 pct off the beginning of May.
Yesterday reports from Reuters suggested the bank had shortlisted three bidders for its payment processing business - WorldPay.
Four US buyout firms, two of which are working as one bid, make up the list, with sources suggesting further development as TPG and CD&R may also join their bids, making it a straight choice between them and the other joint bid on offer - Advent International and Bain Capital.
Final offers are due to submitted next month with due diligence to follow.
Meanwhile, other assets on offer at RBS continue to be linked with bidders with the FT reporting that Morgan Stanley and Jefferies are interested in buying RBS Sempra - a Commodities business that trades natural gas and power.
The North American business only is on offer as the European business was sold to JP Morgan - subject to regulatory approval.
Other assets on offer include the 316 ex William and Glyn branches in the UK, thought to be worth £2bn.
The RBS Worldpay business is being discussed for around 2.5 billion pounds to 3 billion pounds whilst RBS Sempra is expected to raise in the region of £1.4 bn.
The total asset sales could leave RBS up to £6bn pounds better off yet the bank remains in debt - the group recently restructured £15.2 bn worth of debt to bag a £1.25 bn profit.
"To put this into context, the RBS balance sheet is still 3 orders of magnitude larger than these disposals." said the Financials team at Seymour Pierce who have a 'sell' rating on the stock.
"We like the management but feel it is too early in the restructuring process for equity investors to be confident about the final outcome.
"RBS is – trading on 0.8x tangible book. Since the start of May shares are down 24%, versus the market down 9%. Our recommendation is SELL, (shares now close to our target price of 36p). The next significant newsflow will probably be political statements from G20 meeting in late June." they added.