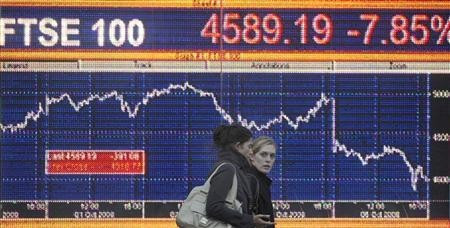 Shares in British banks were up in morning trading on the FTSE 100, with RBS leading the way with shares up over two per cent.
In recent weeks banking shares have declined thanks to fears about sovereign debt in the eurozone, however yesterday saw a number of well subscribed government bond auctions in Ireland, Belgium and Spain boost investor confidence that the eurozone may be healthier than previously thought.
RBS shares, which are more risk sensitive, were boosted and may also have been helped by reports that Santander is considering a bid for 318 RBS branches which, the part nationalised bank must sell in return for the government bailout it received.
By 09:45 shares in RBS were up 2.76 per cent to 45.44 pence per share, Lloyds Banking Group shares increased 0.36 per cent to 55.65 pence per share, Barclays shares rose 0.73 per cent to 309.05 pence per share while HSBC shares declined 0.04 per cent to 651.50 pence per share.
Overall the FTSE 100 was up 0.25 per cent to 5,230.82