Sir Andrew Large has come out in support of the Royal Bank of Scotland by refuting a government adviser who claimed the bank engineered businesses into default while profiting from their struggles.
Large, who was commissioned by RBS in 2013 to conduct a review, said that the claims made by an independent government advisor Lawrence Tomlinson were not true.
"There's an element of plausibility in the assertions that are in the Tomlinson report ... but that doesn't mean to say I think those activities are actually happening. I didn't have any evidence of them," said Large, a former deputy governor of the Bank, told parliament's Treasury Select Committee.
In May 2013, months before the release of the RBS and Tomlinson report, IBTimes UK conducted a special investigation into businesses that claim Britain's biggest banks were wilfully engineering SMEs to fall into default.
Tomlinson's Allegations
Business owner Lawrence Tomlinson, who is adviser to business secretary Vince Cable, claimed that RBS pushed businesses into default after moving them into its Global Restructuring Group (GRG).
He added that the 81% government-owned RBS also profited from their struggles as by moving them into GRG, as this can create more revenue for the bank through higher fees and margins.
It can also result in the purchase of devalued assets by its property division, West Register.
"If the banks are engineering defaults as is suggested in the following sections of this report, it is important to remember that this closes all doors for the business," said Tomlinson in his report.
"Once they are moved into GRG they are considered risky. With the increased margins and fees, their cash flow will also be impaired, again making their proposition look less attractive to a competitor bank - even if the business has been artificially distressed due to the actions of the bank.
"If they have been missold a swap, the contingent liability of that swap on their assets may outdate the length of their facility agreement with the banks too.
"When it comes to moving banks they are unable to do so as their assets are all secured against the swap and there is therefore no security available for the new lender. The business will therefore not be able to meet the risk profile of the potential new bank and they are stuck with whatever terms their current bank offers, however onerous they may be."
Tomlinson runs LNT Group, based in the north of England which has annual revenue of £100m and has interests in construction, software, car manufacturing, and care homes.
RBS Reaction
After the release of Tomlinson's report, RBS drafted in heavyweight lawyers to review the treatment of small-to-medium sized enterprises (SME) and denied wrongdoing.
RBS's newly installed chief executive, Ross McEwan, said the bank appointed Clifford Chance to help its inquiry into the treatment received by SMEs in financial distress.
"To ensure our customers can have full confidence in our commitment to them I have asked the law firm, Clifford Chance, to conduct an inquiry into this matter, reporting back to me in the new year," said McEwan.
However, Guto Bebb MP, the chairman of the All-Party Parliamentary Group on Interest Rate Hedging Products, has called for an independent review.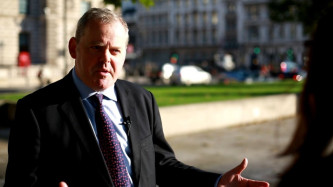 Bebb, who is the MP for Aberconwy in Wales, told IBTimes UK that it was unsatisfactory that RBS intended to conduct an internal review of its behaviour following the adviser's accusations and has called for an independent inquiry.
"I am appalled by RBS's weak reaction to The Tomlinson Report. It was clearly set out in the report that conflicts of interest were a key problem within our current banking sector and yet RBS have inadequately agreed to hold an internal investigation," said Bebb.
"We need an independent enquiry. Large law firms cannot be expected to independently review the banks while heavily dependent on their business. There is a clear conflict of interest."
Raft of Reviews and Investigations
In January this year, the Financial Conduct Authority (FCA) kicked off its independent review of Royal Bank of Scotland's treatment of business customers in financial difficulty by appointing the Promontory Financial Group and Mazars to conduct the report.
It will also consider allegations of poor practice set out in the report by Dr Lawrence Tomlinson and referenced in Sir Andrew Large's report.
At the end of November last year, the FCA has asked a number of banks to confirm that they have not engaged in similar practices to those allegedly followed by RBS in which businesses were engineered into default while the firm profited from them.
The FCA said the first stage of the review will consider RBS' treatment of a sample of customers referred to its GRG.
This will include some cases where customers have already raised concerns with Tomlinson, the Department of Business, Innovation and Skills, and the FCA.
The review will also consider whether any poor practices identified are widespread and systematic.
If this is the case, the second stage of the review will identify the root cause of these issues and make recommendations to address any shortcomings identified.
The watchdog said that it expects to publish the outcomes from the review in the third quarter of 2014.
Meanwhile, the Serious Fraud Office may be laying the ground work for a criminal investigation into RBS while the Bank of England Governor Mark Carney has pledged to take action if Tomlinson's allegations are true.