Rafael Nadal remained upbeat despite suffering his third loss to Roger Federer in 2017 and his third chance of winning his first title of the season.
The Spaniard lost to the Swiss ace in the finals of the Australian Open and in the fourth round at the BNP Paribas Masters prior to his loss at the Miami Masters on Sunday (2 April). He also lost to Sam Querrey in the finals of the Telcel Open in Acapulco. However, Nadal remains confident about his ability to challenge for titles during the rest of the campaign.
The 30-year-old returned from an injury plagued 2016 season and impressed upon his arrival making it to three finals so far. Federer is one of the main reasons the 14-time Grand Slam champion has not won a title this season having lost to him on three occasions in the four tournaments he has played.
"I am close to what I need to be," Nadal said, as quoted by tennisworldusa.org. "I am at a very high level of tennis and I believe I am ready to win titles. I already played three finals this year, losing three times with a player that didn't lose a match - only one match that he never would lose in normal conditions in Dubai and that's it. I'm playing enough well to fight for everything I think."
The 30-year-old will resume his campaign at the Monte Carlo Masters in two weeks time, which is played on clay courts – his preferred surface. Nadal's recent performance will make him one of the favourites for the upcoming clay court tournaments, including the French Open which commences on 22 May.
However, the Spaniard has distanced himself from talk about being the favourite to lift his tenth French Open crown and is focusing on upcoming tournaments in Monte Carlo, Barcelona, Madrid and Rome.
"I have good hopes that I going to be ready for Monte-Carlo. Always when I am playing that well, on clay always helps a little bit more for me. I need to work hard to be ready for that. If I am ready for that, I think I am very excited about playing back on clay again."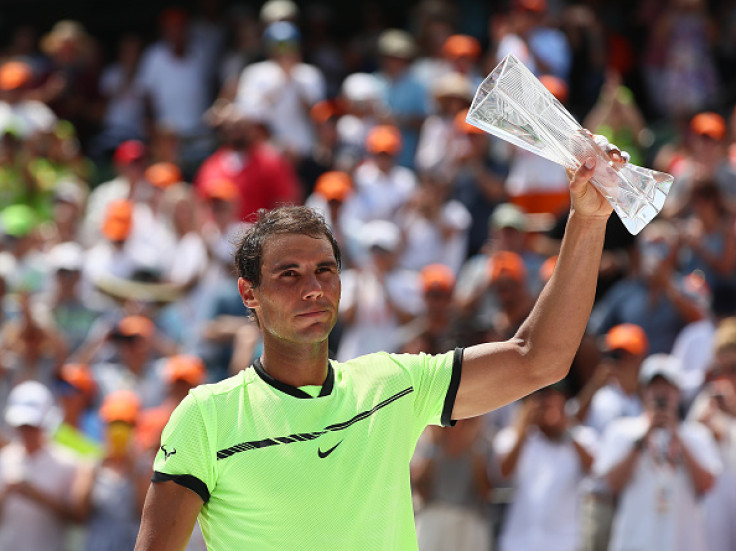 "I don't know," the 14-time Grand Slam champion said when asked about his main rival for the title at Roland Garros. "I didn't play on clay for one year. I don't know if I am a candidate yet to winning the French Open. Remain four tournaments before the French Open. Let's see what's happening in those four tournaments. Then in the French Open we'll see who's the player who won more matches before and then we'll see."