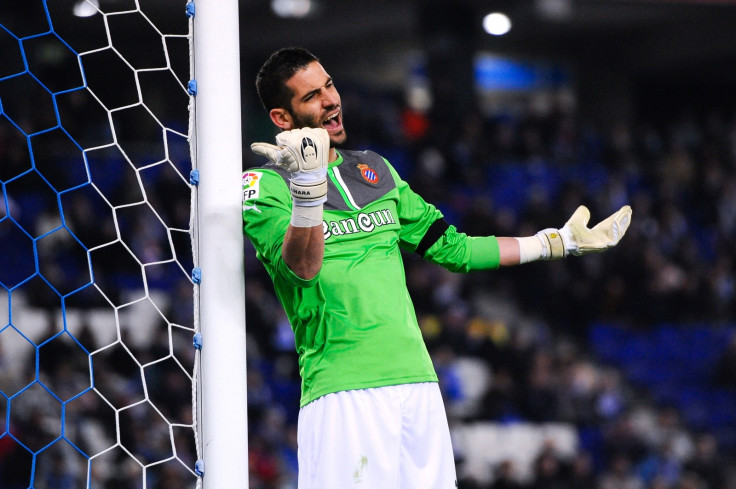 Real Madrid have completed the signing of Espanyol goalkeeper Kiko Casilla, amid suggestions the La Liga giants are now ready to wait until 2016 for Manchester United's David de Gea.
Espanyol will receive a fee of €6m for the 28-year-old shot-stopper who moves to the Sanitago Bernabeu following Iker Casillas' move to Porto last week.
Real Madrid confirmed Casilla has signed a five-year deal through their official website.
"We have the closed the transfer of Kiko Castilla for €6m," Espanyol president Joan Collet said via the club's Twitter account. "We wish him all the luck in the world, the door will always be open for Kiko and Espanyol.
Casilla added: "It was a unique opportunity that I wanted to take. I am very grateful to Espanyol for everything they have done."
Casilla returns to Real Madrid eight years after leaving the club after failing to make a single first team appearance upon graduating from the Los Blancos youth ranks.
With Manchester United holding firm in their attempts to retain the de Gea, reports in Spain have suggested Real will utilise Keylor Navas as their number 1 next season with Casilla acting as a deputy. Marca claim the club will hold off on a move for the Spain international until 2016 when his contract at Old Trafford expires, allowing them to bring him back to Madrid on a free transfer.
Speaking to press on Friday, Real Madrid boss Rafa Benitez confirmed the club's current plan is to use Navas as their first choice goalkeeper.
"De Gea is not our player at the moment and that is not our subject at the moment," Benitez told reporters on the club's pre-season tour of Australia according to Sky Sports.
"We've got some great goalkeepers here at Real Madrid. Navas is our number one at the moment. I've spoken with him. He is more experienced than our other keepers so he's at the front right now."
United boss Louis van Gaal meanwhile has remained coy over the future of his goalkeeper.
"When you ask me about the attitude of De Gea I think [the question is] stupid," he said following his side's arrival in Montreal for the start of their preseason campaign.
"Shall he stay? I don't know! Maybe you? Maybe you have spoken with David? He's training here and doing his utmost best."