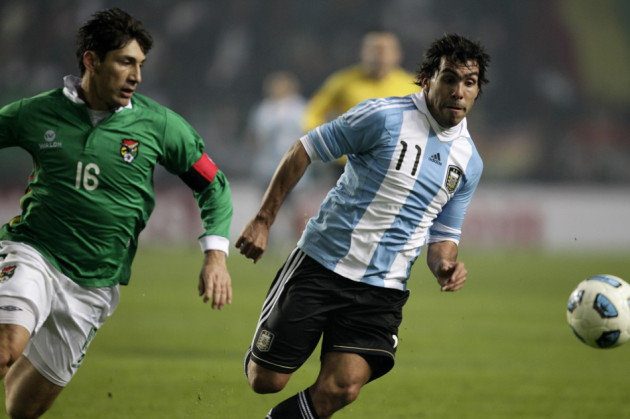 Click here for a full round-up of today's football transfer news
Carlos Tevez's hopes of returning to Corinthians were put on hold after Manchester City rejected the Brazilian club's £35m offer for the Argentina international, paving the way for a move to Real Madrid.
Corinthians president Andres Sanchez has told City that the club will not submit a second offer closer to the club's £50m valuation of the unsettled striker.
"If City want £50m then he will stay in England," Sanchez told The Telegraph. "Corinthians are not going to improve the offer. If we haven't closed the deal by Sunday, it won't happen this year.
"It would have to be a loan, we cannot buy him. That [£50m] is an absurd figure, unviable for the Brazilian football market."
Madrid has since emerged as a possible destination for the 27-year-old, with Tevez's agent Kia Joorabchian suggesting that a move to Spain would be preferable over remaining in England.
"For Carlos, the main motivation for leaving City is not to go to another club in the Premier League, but to move to a city where his family can adapt," he said.
"A move to Spain might solve that problem. It's about the language and the culture. In Spain, they speak the same language. You can see a lot of Argentinian and Brazilian players live in Spain and they have adapted very easily."
Real may now offer Tevez the chance to end his City career -- the manager, Jose Mourinho, has said he would like to sign another forward this summer.
"We decided to improve and balance the squad without ever losing the dimension of creating a team for the future," he told the club's official website.
"We have signed players whom we felt were important to complete a squad that was already very strong.
"In my opinion, and in that of everyone, we are missing one more man, one more attacker."
After Santos striker Neymar revealed that he wouldn't move until January, Real have now indicated they are willing to discuss a move for Tevez. The club are unlikely to offer City the full £50m but could offload an unwanted player as part of the deal. Such a bid could see Gonzalo Higuain or Karim Benzema plus £25m heading to Manchester in exchange for the want-away forward.