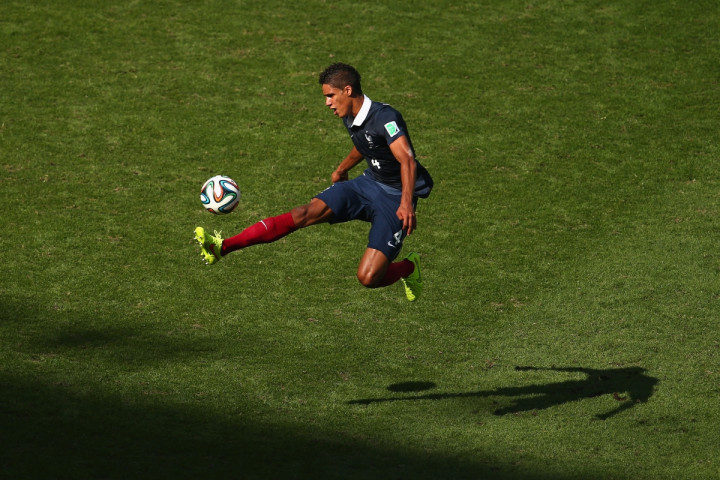 Chelsea target Raphael Varane has committed his future to Real Madrid with a new five-year contract, the Spanish club have confirmed.
The French international centre-back had been heavily linked with a move to Stamford Bridge during the summer.
Jose Mourinho signed him from Lens in summer 2011 during his time in La Liga and was said to be interested in reuniting with him at West London.
Having sold David Luiz to Paris Saint Germain during the early stages of the transfer window, the Portuguese boss had reportedly earmarked the 21-year-old defender as John Terry's long-term replacement.
Last season the Chelsea boss hinted at his admiration for the French starlet by including him in the top three young players he expected to light up the summer's World Cup.
"Hazard, Neymar and Rafa Varane. I think he is the best young central defender in the world. Already I think he's the best," Mourinho said.
Indeed, the former Real Madrid boss gave Varane a leading role in his back-line during his time at the Santiago Bernabeu ahead of Sergio Ramos and Pepe – even though he was just then a teenager.
Reports in Spain have been claiming Varane was also considering a move away from the La Liga giants as both Pepe and Ramos are currently ahead of him in Carlo Ancelotti's pecking order.
However, the French international has finally decided to commit his future to the Champions League winners.
"Real Madrid C. F. has extended Raphaël Varane's contract with the club until 30 June 2020," the club confirmed on its official website.
Meanwhile, speaking with the club website, Varane said: "I'm really happy to be able to continue here. I had been thinking about it quite a bit and this new contract makes it possible."
"I feel happy here and everyone treats me really well – almost as though I was a player who has made their way up through the youth teams. It's a great honour for me and I think I am very lucky to be able to defend the Real Madrid shirt.
"The new contract represents the confidence the club has in me and I want to continue growing as a player. I have progressed a lot since I joined as an 18-year-old and I want to continue doing so at this great club. I am more mature and I have learned a lot."
So it looks Mourinho will have to look somewhere else should he want to bolster the Chelsea back-line in the near future.