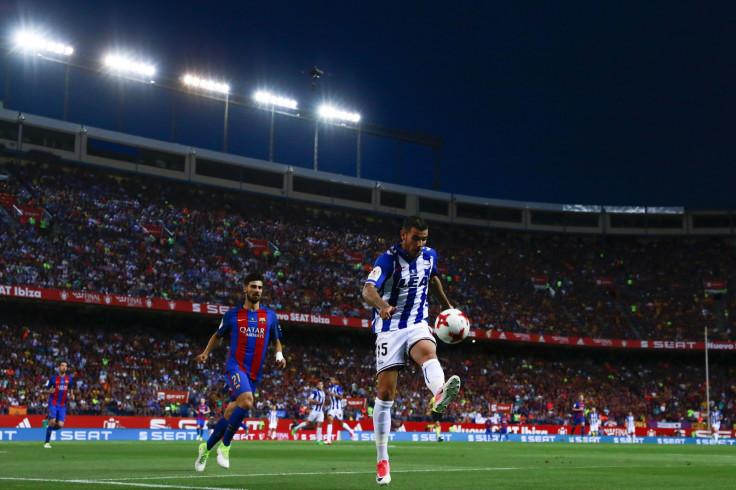 Florentino Perez has admitted Theo Hernandez would be a "phenomenal" player for Real Madrid amid suggestions that the Atletico Madrid left-back is set to join the Champions League winners. Barcelona were also interested in the France starlet but Los Blancos have reportedly agreed a €26m (£22.9m, $29m) deal to complete his signing ahead of the 2017-2018 campaign.
In April, Marca broke the story that Real Madrid were prepared to meet his €24m release clause in order to lure him to the Santiago Bernabeu.
However, the deal came under some scrutiny after other reports claimed that Liverpool, Bayern Munich, Manchester City, Marseille and specially Barcelona were trying to hijack move as Atletico would prefer not to sell him to their neighbours.
Theo's agent, Manuel Garcia Quilon, then confirmed that both Real Madrid and Barcelona had made offers to sign the left-back.
Those talks had cooled in recent weeks as Real Madrid were in the midst of a presidential election.
But earlier this week, Marca reported that Theo's move to the Bernabaeu was back on and will be made official next month after Real Madrid and Atletico Madrid reached an agreement worth €26m.
Los Blancos, according to the Spanish publication, will pay €2m more than the release clause demands as a good will gesture to reduce tension between the two Madrid clubs.
Perez has now refused to confirm that the deal is done, but did admit that Real Madrid are interested in luring him to the Bernabeu to provide back-up for Marcelo.
Asked by Onda Cero whether Theo has already undergone a medical ahead of completing his move to Real Madrid, Perez said: "I do not know. I have not seen that he is a Real Madrid player and I just talk about Real Madrid players. I do not know if we need left-back, I think we do and Theo would be phenomenal."
"I don't think it will disturb our relations with Atletico. If he is not going to play at Atletico, and we are interested, we will be happy if we can sign him."
Theo is expected to become the Real Madrid's second signing of the summer. In May, Los Blancos announced the arrival of Vinicius de Oliveira Junior from Flamengo – who will continue in his homeland until the summer of 2019.
The 16-year-old forward was also linked with Barcelona but Real Madrid also won the race for his services after agreeing to meet his stunning €45m release clause.
Perez defended the club's decision to make such an investment in the teenager, insisting that there were more clubs ready to pay the same fee.
"Vinicius is worth what the market has offered. He started at €25m and then (Flamengo) increased the clause to €45m. He has come to Real Madrid because he wanted to. In other places they paid him more. We believe that he is a different player," Perez said.