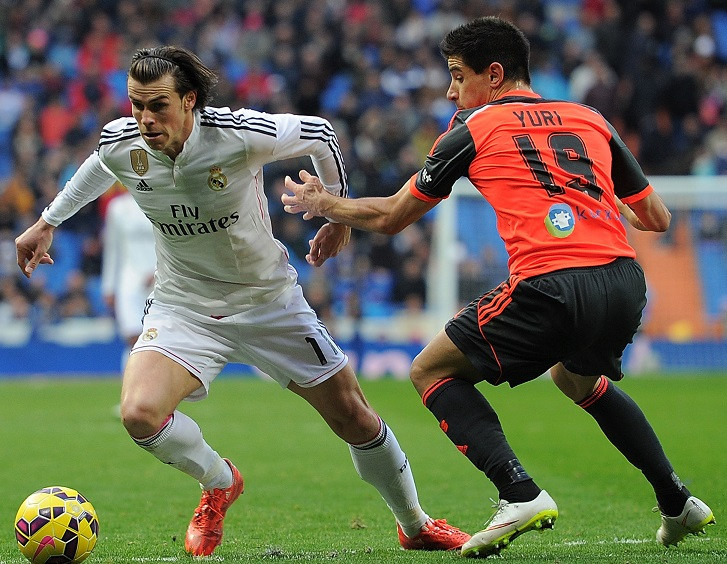 Gareth Bale's goal drought at Real Madrid has a direct relationship with a change of his style after his own fans whistled him at the Santiago Bernabeu and accused the former Tottenham star of being a "ball-hog", recent stats have revealed.
The Wales international was booed by some of his own fans at the Santiago Bernabeu during the victory over David Moyes's Real Sociedad side on 31 January.
The former Spurs star was recently rebuked publicly by Cristiano Ronaldo for opting to shoot instead of passing him the ball in the win against Espanyol and he was also made the scapegoat for the 2-1 defeat to Valencia earlier in 2015.
Spanish newspaper AS says Bale has since changed his approach to the game, which sees him trying to be more generous but losing his goal instinct at the same time.
According to the stats, since the game against Real Sociedad, Bale has shot on goal 12 times in 540 minutes, meaning he made one attempt every 45 minutes on the pitch, while before the game against Moyes's side he had an average shot rate of every 22 minutes.
Bale's change of style has had a negative impact on his goalscoring record. Having scored 10 in 20 La Liga games before the Sociedad match, the Tottenham star has failed to score in his last seven appearances for Los Blancos - six La Liga games and a Champions League tie - while his last goal came from the penalty spot in the victory over Cordoba on 24 January.
AS points out this is Bale's longest goalscoring drought since the former Spurs hero left White Hart Lane for the Santiago Bernabeu in the summer 2013 for a world-record fee of £81m ($124m).
When asked after the Champions League victory over Schalke whether he had changed his approached to the game due to the "selfish" accusations, Bale said: "I haven't really adapted my style of play. In certain games, if a sight of goal has opened up I'll take it. But tonight I think my teammates were in better positions and I tried to play the ball around."