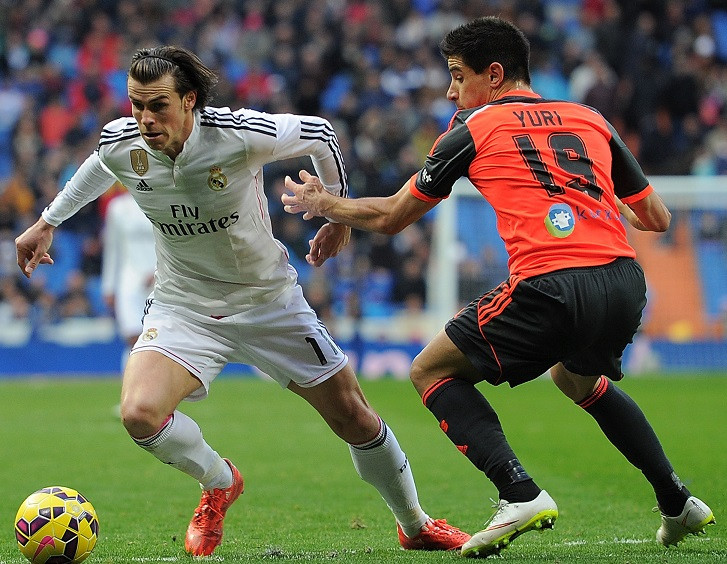 Real Madrid boss Carlo Ancelotti has once again come out in defence of Gareth Bale after the former Tottenham hero was booed by some of his own fans during the Los Blancos victory over Real Sociedad at the Santiago Bernabeu on Saturday 31 January.
The Wales star is yet to conquer the Spanish fans as he did during his time in the Premier League even though last season he scored crucial goals in both the Copa del Rey and the Champions League final.
Earlier this season he was accused by Spanish reporters of being a ball-hog while earning a big revoke from Cristiano Ronaldo after during two games in a row he opted to make his own play in two-on-one situations rather than seek assistance of teammates.
With Ronaldo suspended for the Real Madrid game after his red card against Cordoba the previous week, Bale was expected to assume the leading role against David Moyes's side on the weekend.
However the former Spurs star shot 10 times on goal without any luck and was booed again by some fans after nicking the ball off his teammate James Rodrigue in front of goal.
But when questioned about that during the press conference ahead of the La Liga game against Sevilla on Wednesday night (4 February), Ancelotti said: "The truth is that I don't think that he heard whistles, and neither did I."
"I do not think that he is worried, he is playing well and is in optimum condition. I hope that he continues like so."
The boss points out that he scored crucial goals in his debut season at Real Madrid while in the current one has already netted 14 goals while providing eight assists in 29 matches.
"Bale is doing his best, at the maximum, to help the team. He did it very well last year. He scored in the three finals, he is producing a fantastic season. We are at ease with Bale, he is doing it very well."
When questioned whether Bale doesn't feel comfortable playing on the right side to leave the left flank to Ronaldo, Ancelotti responded: "Bale prefers playing on the right."
"He likes to play on the right so that he can shoot more. He can play in all of the positions in the attack. According to the situation of the match, he can change flanks, but he can shoot more from the right."
Meanwhile, Ancelotti insists Bale will remain unmovable in his line-up should he be fit to play. "I have no doubt - if Cristiano Ronaldo, Benzema and Bale are fit, they will always play".