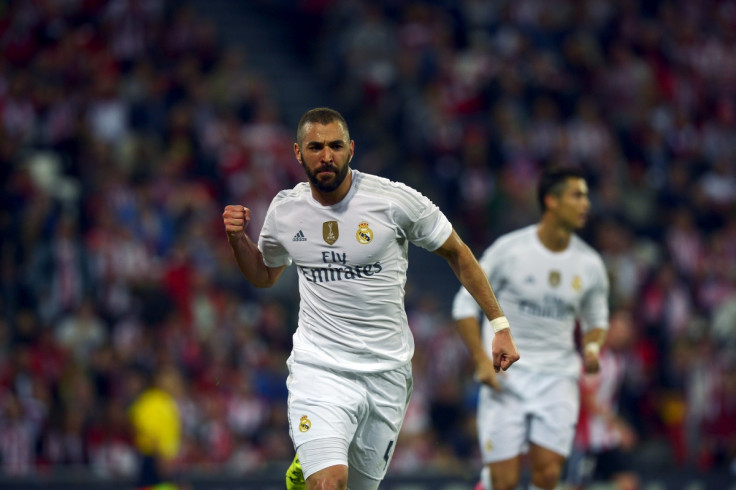 Real Madrid manager Zinedine Zidane has finally received some good news ahead of the business end of the season, with a club announcement suggesting his squad is nearing full fitness, ahead of crucial games with Sevilla and Barcelona. Karim Benzema, who has missed the last four games, is the latest injury victim to return to training on Wednesday (16 March), preparing for Sunday's match against the current Europa League champions.
Zidane has endured a difficult start to life as Real Madrid boss since taking over from Rafa Benitez in January. The French legend has failed to improve the team's results, while his side recently waved goodbye to hopes of winning La Liga after a humiliating home defeat against cross-town rivals Atletico Madrid left them 12 points behind Barcelona.
This situation has not been helped by the number of injuries the squad has suffered this term. There have been 22 recorded instances of muscle problems in the Real Madrid first team this campaign, hitting key players such as Benzema, Gareth Bale, Marcelo and Sergio Ramos.
Cristiano Ronaldo made specific reference to this issue after the Atletico loss, seemingly criticising the club's second-tier players who'd been forced to step up in the wake of widescale injuries. He said: "I don't want to disrespect anyone, but when the best players aren't available it's harder to win. I like to play with Karim, with Bale, with Marcelo. If we were all at my level, maybe we would be leaders."
However, it finally looks as though Zidane will have the chance to field his strongest XI possible as the season draws to a close, with the club confirming all traditional first-team players are available for selection.
"The squad held the first training session of the week... as they began preparations for the La Liga game against Sevilla, taking place this Sunday at the Santiago Bernabeu. Benzema rejoined the group for a training session in which Zinedine Zidane had the full squad available, and also called upon Real Madrid Castilla players Martin Odegaard, Borja Mayoral and Marcos Llorente," the club confirmed in a statement.
The news is a timely boost for the Real Madrid boss ahead of the matches against fifth-place Sevilla, and the second El Clasico of the season against Barcelona, which is on 2 April following an international break.
Real Madrid are resigned to not winning the league this year as they are already 12 points behind their Catalan nemeses in the table. Yet Zidane's long-term future at the club depends on securing results in these kind of matches, especially considering how Benitez was widely seen to be fired for his poor results against major opposition. This includes a 4-0 loss to Barcelona in his only Clasico in charge.
Los Blancos also have big hopes of winning their 11th Champions League title, having booked their place in the last eight with a 4-0 victory on aggregate against Roma. The return of Benzema, following in the footsteps of the recent comebacks for Bale and Marcelo, will be vital to these hopes.
Zidane is thus expected to give Benzema some pitch time against Sevilla, with the suspended Sergio Ramos and Pepe being the only absentees of note.
More about Real Madrid