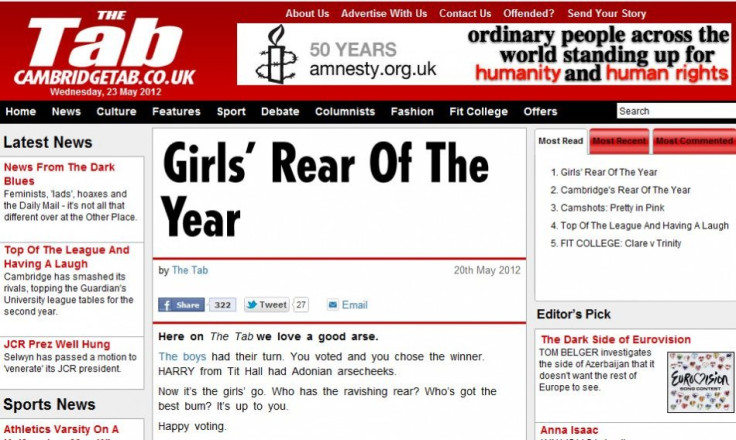 A Cambridge University student newspaper is under the scanner after publishing racy images of female students in lingerie - as part of a poll for the best bottoms and to pick the best among them.
The Tab asked readers to vote for their Rear of the Year, in a contest, featuring photos of five Cambridge students - Leila, Bella, Elizabeth, Meredith and Lynette. One image showed a student from Wolfson College posing in innerwear, while in the prestigious University Library.
The competition has, predictably, drawn criticism from women's rights campaigners, saying they were disappointed that some of the brightest young minds in Britain had allowed themselves to be portrayed as "sex objects".
"It is unsurprising that the Tab continues to reproduce the usual sexualised images of faceless women that we see in the media every day. As members of the Cambridge community, we have a responsibility to speak out against the portrayal of women as sex objects, given that extensive research by bodies such as the UN and the End Violence Against Women coalition has repeatedly identified links between these portrayals and attitudes that underpin violence and discrimination against women," Ruth Graham, the Cambridge University Student Union Women's officer was quoted as saying, in Cambridge news site.
"The Tab's supposed nod at equality of objectification, by producing a men's Rear of the Year story, is evidently superficial, given that whilst the women are featured wearing lingerie, the men are featured urinating and cooking," Graham responded.
A source from the University was quoted in the Daily Mail as admitting that while they were unhappy with the situation, they could not do much to stop it.
"We can't stop what they're doing but it would be fair to say we don't approve of it. It is not the kind of image we would want to project," the source explained.
The newspaper's editor, Joe Bates, defended the competition saying they had operated a policy of sexual equality by running a male competition and the whole thing was "just a bit of fun".
"We have treated girls and guys in the same way. The feature started with guys so I would reject any criticism that we have been anti-feminist. People make the anti-feminist assumption, but it says more about people's reactions to it and the difference between male and female at is held by them. The competition has been very popular, we have received lots of good comments. It is just a bit of fun," Bates said.
The snapshots were taken from behind and do not reveal the identity of the girls. They are, furthermore, required to only submit their first name to enter the competition. The contest was, reportedly, conducted by the online student newspaper to mark the anniversary of Pippa Middleton's famous "derriere show" at the royal wedding.