Red Bull's 2014 Culture Clash went off with a bang last night as 20,000 fans descended on Earls Court in London to watch the world's biggest musical battle live.
Rebel Sound, made up of Chase & Status, Rage, Shy FX and legendary DJ David Rodigan MBE, were crowned the champs after they battled it out against grime collective Boy Better Know (BBK), New York hip hop collective A$AP Mob and veteran Jamaican sound system Stone Love.
The epic showdown, presented by DJ Annie Mac and comedian Doc Brown, saw the soundsystems go head to head in four rounds based on playing the heaviest sound, the best selection, the biggest special guests and ambition and presentation.
Celebrities including supermodel Jourdan Dunn, presenter and DJ Reggie Yates, singers Alexandra Burke and Katy B, rapper Wretch 32 and singer-songwriter Emeli Sande were spotted cheering in the crowds.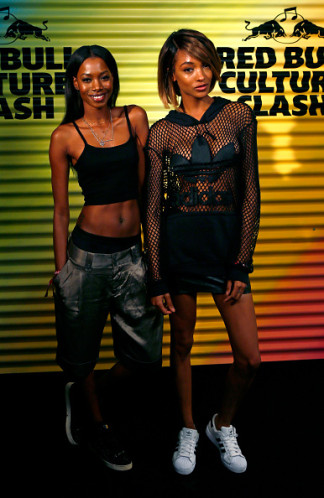 The crews broke records this year as they came with highly charged performances, special guests and tricks up their sleeves which got the crowds going crazy.
But for all the talent on the night there could only be one winner and Rebel Sound stormed to victory after blowing everyone away with custom recorded dubs from Rihanna, Emeli Sande and British broadcasting legend Trevor McDonald.
A specially recorded MC Luck and DJ Neat Little bit of Luck dub got the crowds screaming as well as a surprise guest performance from grime artist Tempa T.
Last year's champions Boy Better Know put up a serious fight, bringing out hot hitters from the grime scene such as Lethal B as their cult-like fans chanted "BBK" throughout.
Stylo G made a guest appearance for Stone Love, while A$AP Mob's special guests Danny Brown and House of Pain amped up the crowds but didn't do enough to secure a win.
Highlights of the night included BBK calling out Tempa T for appearing for Rebel Sound after previously working with them, Jammer appearing onstage in his Murkle Man costume and arch rivals Rodigan and Stone Love going toe to toe from across facing stages.
But it really got heated when Jammer called Stone Love "Stone Age", Skepta assumed Rodigan and Shy FX were Chase & Status' "Grandad and Uncle", Rodigan announced he "felt sorry for A$AP" and A$AP Mob claimed to have "f****d' BBK's 'B***h".
If A$AP mob got battered on UK turf they certainly didn't appear phased as they brought their gangster Harlem style to the arena, riding out on stage on quad-bikes and performing Work with their own on-stage twerking women.