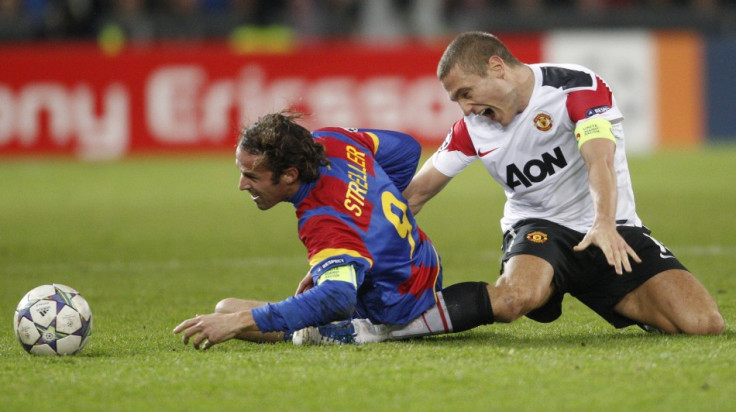 Manchester United will miss Nemanja Vidic's presence on the pitch, according to Jamie Redknapp, with the defender looking at a lengthy spell out of action after injuring his knee in last night's shattering Champions League loss.
Vidic came off the pitch at the end of the first half against Basel last night, and Sir Alex Ferguson admitted today that the club are not sure how long he will be out for.
And TV Pundit Redknapp believes that the Serbia international is just the tip of the iceberg in United's problems at the moment, with the club struggling in both Europe and England.
"If you look at it at the moment, they're in a difficult moment," Redknapp said, as reported by SportsMole. "[They] went out last week in the Carling Cup, five points behind Manchester City and now out of the Champions League. It's all to do now.
"So often in the past they've had difficult moments and come of age and produced something. But at the moment I'm looking and thinking, it looks like Nemanja Vidic could be out for a long while, they'll miss him.
"Wayne Rooney was out of form today. They're under real pressure and its very early in the season. They're going to have to turn it around."
United underwent a shocking loss in the Champions League last night, with the English giants going out of the tournament to Basel, despite only needing a draw to qualify.
Vidic's injury will have only compacted Ferguson's woes, while Patrice Evra admitted that the loss was embarrassing for the side as they look forward to inclusion in the Europa League.
"We have to be honest and say we haven't been professional from the beginning of this competition," he said.
"I don't know why, but maybe one or two of us have to look in the mirror and say we can do a lot better than we have done.
"There is always a lesson to be learned because, in the beginning everyone thought United would finish first in the group, with the teams we were drawn against.
"But in the end we came to qualify and we haven't got the job done. I don't have the words to describe how it feels all I can say is that it is a sad day.
"But it is embarrassing to be in the Europa League. Some players dream of playing for United in any competition and you have to respect that, but the way I feel now, it is Champions League or nothing.
"It is not just about tonight, though. It is about the whole competition. We threw away a chance to qualify.
"We have to get back to work and show that we are Man United and that we never die."