It has been just over a year since Microsoft gobbled up career networking site LinkedIn. That's long enough to start asking: Was the $27bn acquisition really worth it?
Critics warned at the time of the deal that Microsoft was overpaying for a declining business. Others argued Microsoft's largest-ever acquisition fitted into a strategy of building up the company's Office suite of workplace productivity products and its cloud-computing business.
"I don't think we'll know for a couple years if this will really pay off, but the signs thus far are positive," said Jillian Ryan, an analyst for eMarketer.
Most people who use LinkedIn to connect with colleagues or search for career opportunities could be forgiven if they haven't noticed many changes since the deal was sealed in December 2016.
LinkedIn's longtime CEO Jeff Weiner continues to hold that title. Its co-founder, Reid Hoffman, now sits on Microsoft's board. The LinkedIn brand is operating with a "great level of autonomy", according to Ryan. "Microsoft hasn't really intervened that much, considering the vast scope and price tag of this integration."
Microsoft on Wednesday (31 January) posted second-quarter revenue of $28.92bn, a 12% increase over the same quarter a year earlier. The company also reported a loss of $6.3bn, tied to a $13.8bn tax charge related to the new federal tax law signed in December.
LinkedIn's contribution to quarterly revenue was $1.3bn, the highest since the company changed hands, though it's still too early to compare year-on-year growth.
Still, Microsoft Chief Financial Officer Amy Hood and CEO Satya Nadella were effusive about the network's performance in a conference call with investors.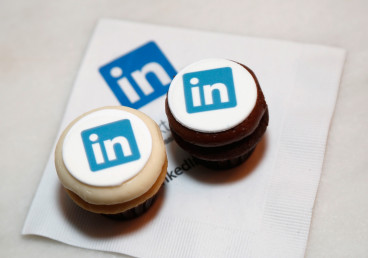 Hood said the acquisition is "performing better than we expected, and I think today we would even say it's a more strategic asset than we even maybe thought a year ago."
She referred to its power to add to the company's understanding of its customers and their connections with one another.
LinkedIn boasts of more than 530m users on its professional network, most of whom use it for free. But the service also contributes to Microsoft's bottom line through its three business divisions. The biggest, dubbed 'talent solutions', helps recruiters attract and find jobs for job hunters.
It also makes money from advertisements on its platform and offers paid subscriptions for online courses and premium access on its network.
Among those buying into the platform are sales representatives using it as a tool for 'social selling', or targeting prospective customers through their trusted social networks and connections.
Another of LinkedIn's co-founders and its first chief technology officer, Eric Ly, said in an interview that this is "really just the beginning" of what LinkedIn could offer as Microsoft taps into the professional network's database of work histories and other detailed information that users share about themselves.
"There was a lot of value in the data alone," said Ly, who now runs a new company called Hub. "Microsoft's going to be able to recoup its investments and get a lot more back."
Nadella also says the integration fits into a larger strategy. In an autobiography published last year , he wrote that he had a "bias" for driving investment toward advancing services such as LinkedIn and Office that help people create and "become more productive rather than software that is simply entertaining — memes for conspicuous consumption".