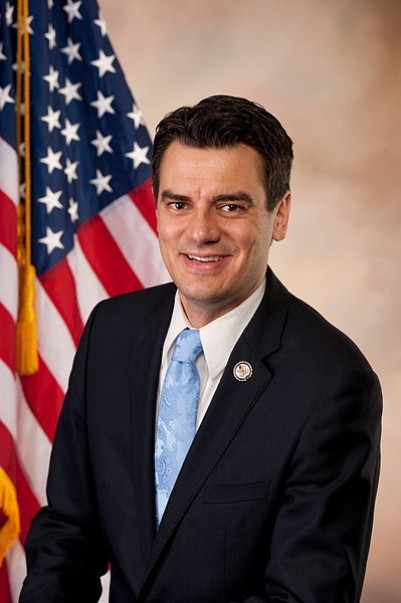 The late-night swim a group of US congressmen during an official trip to Israel, heaps fresh embarrassment on Mitt Romney and the Republican Party on the verge of the presidential elections.
The FBI opened an investigation after Kansas Rep Kevin Yoder, 36, stripped off and jumped into Sea of Galilee, during an officail visit to Israel.
He was one of 20 night dippers, including five other Republican congressmen, their families and members of their staffs, US website Politico revealed.
Yoder, an exponent of the ultra-conservative Tea Party movement, admitted stripping in front of one of his colleagues' daughters and the wife of another member.
"A year ago, my wife, Brooke, and I joined colleagues for dinner at the Sea of Galilee in Israel. After dinner I followed some Members of Congress in a spontaneous and very brief dive into the sea and regrettably I jumped into the water without a swimsuit," he said.
He apologised for incident but his run for re-election as Kansans representative in November might be jeopardised.
"It is my greatest honour to represent the people of Kansas in Congress and [for] any embarrassment I have caused for my colleagues and constituents, I apologize," Yoder said.
The other participants said they dived in for religious reasons - the Sea of Gallilee is famous for Jesus's walk on water - or just to cool off at the end of a hot day.
Unlike Yoder they were reportedly swimming fully or partially dressed.
The incident happened while the congressmen and their families were on a trip across the Holy Land, paid by The American Israel Educational Foundation (AIPAC).
AIPAC organised the journey at a cost of about $10,000 per person to remind Republican congressmen about the importance of Israel-US tight relations.
During his stay in Israel, Yoder had met with Prime Minister Benjamin Netanyahu and President Shimon Peres.
The trip took place in August 2011 but details eventually leaked from the FBI just one year later, during the presidential election campaign.
A federal investigation was opened reportedly to determine if U.S. officials had put themselves at risk or exposed any sensible information during the drinking party. However no formal allegations of wrongdoing followed.
Apart from Yoder, the list of night divers also included: Rep Steve Southerland, of Florida, and his daughter; Rep Tom Reed, of New York, and his wife; Reps Ben Quayle, of Arizona, Jeff Denham, of California, and Michael Grimm, of New York; Steve Stombres, Rep Cantor's chief of staff; Tim Berry, Rep McCarthy's chief of staff; Laena Fallon, Rep Cantor's former communications director and Emily Murray, Rep McCarthy's top health care aide.
The Yoder story broke as Romney and the Republican Party were attempting to work out what to do with Todd Akin of Missouri.
The embattled Akin, who recently prevailed in a three-way Senate primary, caused an uproar by suggesting on Sunday that women's bodies could prevent pregnancies in cases of "legitimate rape." He has since faced intensifying calls to exit the race, where Republicans believe they have -- or had, before Akin's blunder -- an excellent chance of unseating incumbent senator Claire McCaskill, a Democrat.