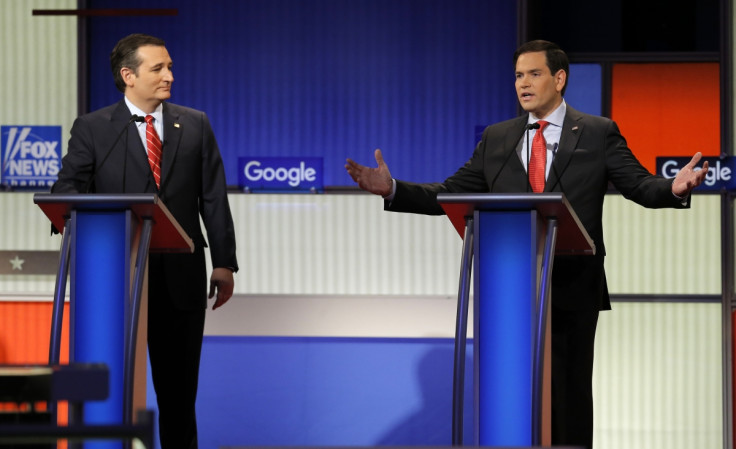 The top seven Republican presidential hopefuls are set to meet on 6 February for the final debate before the much-anticipated New Hampshire primary. The ABC News-hosted debate will feature all the remaining Grand Old Party (GOP) contenders, save for Carly Fiorina, who failed to qualify ABC's polling metric.
The debate will allow the candidates to drum up support before the crucial primary on 9 February. Texas Senator Ted Cruz, winner of the Iowa Caucus, will look to turn his victory into a winning streak. Meanwhile, second place winner real estate mogul Donald Trump is hoping to regain his footing with a win in the Granite State. Like Cruz, third place winner Florida Senator Marco Rubio will need to do well in New Hampshire to further solidify his chances at becoming the party's nominee.
Viewers may have a chance to see Fiorina on the stage on Saturday (6 February) if her efforts to make it back on the stage pay off. The former Hewlett Packard CEO wrote Republican National Committee chairman, Reince Priebus an open letter making her case as to why she should be given a spot.
She wrote: "To review, we beat Governors Christie and Kasich in Iowa this week when voters actually had their say. This campaign has the same number of delegates as Governors Bush and Kasich while Governor Christie has zero. We're ahead of Dr Carson in New Hampshire polling...We are already on the ballot in 32 states, and there is a ground game with paid staff in 12 states. Yet, all of these candidates will be invited to the ABC debate. I will not."
Recent polling by CNN/WMUR shows Trump in first with a double digit lead over Rubio, 29% to 18%. Cruz and Ohio Governor John Kasich follow closely behind with 13% and 12% respectively. A poll by UMass/7News gave Trump a much wider lead, 36% to Rubio's 15%.
Where and when
The eighth GOP debate will begin airing live at 8pm EST/1am GMT from St Anselm's College Institute of Politics. ABC News is hosting the New Hampshire debate, with anchors David Muir and Martha Raddatz acting as moderators. Muir and Raddatz will be joined by Hot Air editor-at-large and Fox News contributor Mary Katherine Ham. WMUR and IJReview are also sponsoring the debate.
How to watch
Expect to be able to watch the debate on a number of platforms. ABC News will broadcast the debate live. The network has not announced whether the debate will be streamed online or if there will be a mobile streaming option.
The next GOP debate, hosted by CBS, will be on 13 February in South Carolina.