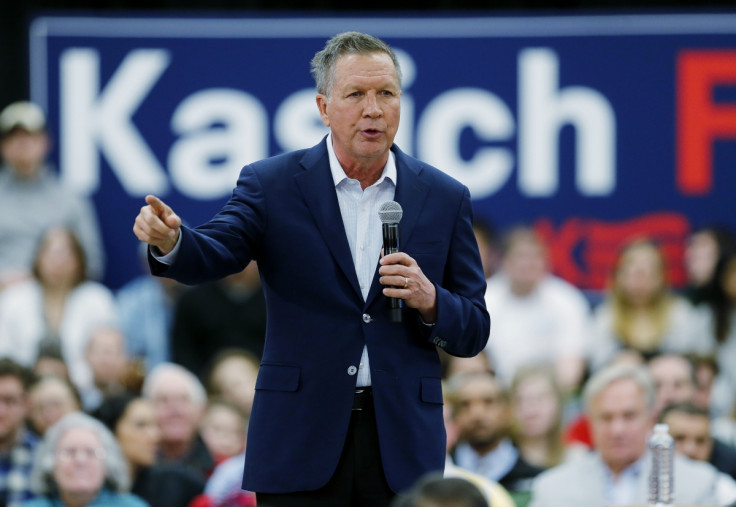 The Republican presidential candidate John Kasich was forced to apologise after the Ohio governor described how in his early days running for office, women "left their kitchens" to get him elected.
"How did I get elected?" he said during a town hall event at George Mason University in Fairfax, Virginia on 22 February. "Nobody was—I didn't have anybody for me. We just got an army of people, who, and many women, who left their kitchens to go out and go door to door and to put yard signs up for me. All the way back, when, you know, things were different."
He continued: "Now you call homes and everybody's out working. But at that time, early days, it was an army of the women that really helped me get elected to the State Senate." Kasich first ran for Ohio State Senate in 1978 when he was 26, The New York Times noted.
Kasich's comments drew scrutiny on social media, television and even a supporter at the town hall. The woman, who asked Kasich about him signing a bill to stop funding Planned Parenthood in Ohio, told the GOP hopeful: "I'll come out to support you, but I won't be coming out of the kitchen."
According to ABC News, student protesters met with Kasich after a town hall meeting at Virgnia Commonwealth University in Richmond, Virginia. "Today I left my kitchen, because Kasich has no vision," the protesters yelled.
Democratic frontrunner Hillary Clinton, the only remaining woman in the 2016 presidential election race, also commented in a Twitter post. "It's 2016. A woman's place is...wherever she wants it to be." Kasich was later asked about the tweet from Clinton's campaign, to which he responded: "I completely agree."
The governor's campaign spokesman called the backlash "desperate politics" as he justified them. "John Kasich's campaigns have always been homegrown affairs," spokesman Rob Nichols said. "They've literally been run out of his friends' kitchens and many of his early campaign teams were made up of stay-at-home moms who believed deeply in the changes he wanted to bring to them and their families. That's real grassroots campaigning and he's proud of that authentic support."
Nichols added, "To try and twist his comments into anything else is just desperate politics."
Kasich defended his comments to reporters at The Miller Center in Charlottesville, Virginia. "When I was a new candidate, I did what I do now, which is to have a lot of town halls, but they weren't in town halls, they were in kitchens and they were in living rooms, and a big chunk of people who helped me in my early days and throughout my career and even up until now have been women."
He later apologised for the comments during an interview with CNN. "I'm sorry anybody who's offended, of course," he said. "Of course, I'm more than happy to say I'm sorry if I offended somebody out there, but it wasn't intended to be offensive."