Ted Cruz suggests Duck Dynasty star Phil Robertson for UN ambassador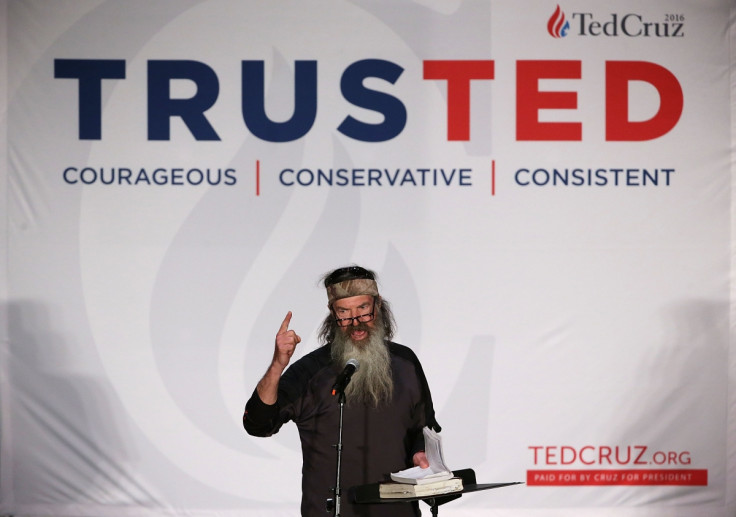 Republican presidential hopeful Ted Cruz made an interesting suggesting during a campaign rally in South Carolina on 19 February: Duck Dynasty star Phil Robertson for UN ambassador. Cruz officially received Robertson's endorsement last month in a campaign video released by Cruz's camp showing the two on a duck hunt.
"Here's a thought experiment for you: Imagine Phil Robertson as ambassador to the UN," Cruz said to a crowd in Myrtle Beach, South Carolina. "Now let me just ask ya, how much would you pay to see that?"
Cruz continued: "You know there's a reason he terrifies the mainstream media. He says the things you're not supposed to say. He actually remembers who we are as Americans and just speaks it with a joy, not with an anger, not with a hatred, with a joy in who we are."
According to CNN, the A&E reality TV star spoke at a rally in Iowa in January and claimed the Texas senator would be the nation's best choice to restore it to its Christian roots. Robertson has sparked controversy in the past after he called same-sex marriage "evil" and "wicked". He continued to campaign for Cruz along with several other conservative favourites, Mother Jones reported.
Robertson reiterated his ringing endorsement for the Iowa caucus winner, clutching a Bible and clad in camp attire. "I'm for Cruz because you see this in my hand? Bibles and guns brought us here. And it will be Bibles and guns that keeps us here. And this man owns them both," he proclaimed. Mother Jones reported he then picked up his camo backpack and walked back behind the curtains. He returned shortly after afterwards to discuss presidents who pray.
"We went with the atheists beginning about 50 years ago, and we've almost created in America a hell on Earth. Vote godly. I love you, and I love God. It's the only way to roll," he added.
Cruz, who won the Iowa Caucus on 1 February, lost in South Carolina and is now headed to Nevada for the 23 February caucus. Polling by Gravis released 15 February revealed Cruz is trailing Republican frontrunner Donald Trump by 16 points. Cruz falls to third place in a CNN/ORC poll released the same day, behind Florida Senator Marco Rubio.
© Copyright IBTimes 2023. All rights reserved.