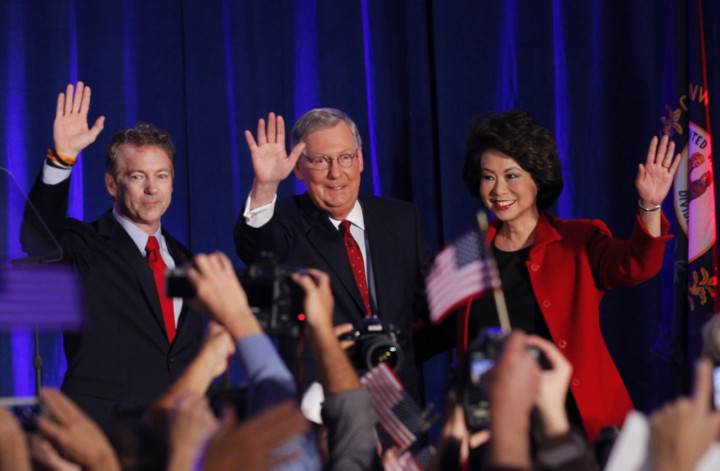 The Republican Party has gained control of the US Senate in the mid-term elections and is on course to increase their majority in the lower House of Representatives, potentially complicating President Barack Obama's remaining years in his second term.
According to the latest results, the Grand Old Party sealed the North Carolina Senate seat after winning in Arkansas, Colorado, Montana, South Dakota and West Virginia earlier, BBC reported.
Going into the election the Republicans needed six more seats to control the 100-seat chamber with 36 Senate seats in play.
The GOP is also likely to increase its majority in the lower House of Representatives, according to the Associated Press.
Thirty-six governors and 435 members of the House of Representatives are also to be chosen by millions of Americans in the November elections.
The preliminary results indicate several Democrat and Republican Senators are likely to retain their seats. Republican leader in the Senate, Mitch McConnell, has been re-elected from his Kentucky seat while Shelley Moore Capito has reportedly been re-elected in West Virginia.
Ohio's Republican governor John Kasich is also heading for a second term win.
Republicans are leading in states such as Alabama, Tennessee, Oklahoma, South Carolina and Mississippi while Democrats are set to retain seats in Massachusetts, Rhode Island and New Jersey.
President Obama is expected to make a formal statement later in the day in the likelihood of a strengthened Republican opposition and will also hold a post-election session with bipartisan leaders on Friday, 5 November.
"For too long, this administration has tried to tell the American people what is good for them and then blame somebody else when their polices didn't work out." McConnell, who is set to become the majority leader, said in his victory speech.
The troubled domestic economy, Obama's low job-approval rating and the political gridlock have largely influenced the voters.
"It would not be wise to draw as broad a conclusion about the outcome of this election as you would about a national presidential election simply by virtue of the map," White House spokesperson Josh Earnest told reporters.