The sale of Gourmet Burger Kitchen for £120m ($160m) and plans to double the size of the chain does nothing to hide the fact that the casual dining market is in for a tough few years, critics say. South African firm Famous Brands said it signed "a mouth-watering" deal to buy the chain from buyout firm Capricorn Ventures earlier this month.
It added it planned to expand the group, founded in 2001 in Battersea, London, to double the business to 150 outlets over the next five years.
Kevin Hedderwick, Famous Brands' strategic advisor responsible for M&A activity said: "Quite simply, Gourmet Burger Kitchen is a best in class business."
However, growth in the casual dining market has been easing, hit by consumers opting against eating out and instead preferring to use mobile apps to order in.
Stifel analyst Jeffery Harwood says "market conditions are highly competitive".
The casual dining market, which comprises around 10,000 branded outlets in the UK, lifted 6.7% to £6.3bn last year, according to foodservice data firm Horizons. This compares with growth so far this year of around 5%.
"This is the kind of year-on-year growth that many industries would love to have," says Simon Stenning, executive director of food and drink analysts MCA. "But that does not hide the fact that the pace is slowing."
'Own goals' at dining outlets
This slower trading was demonstrated by the Restaurant Group last month, which runs over 500 outlets including Frankie & Benny's and Garfunkel's, which posted half-year operating profit down 4.4% to £37.5m.
The group said it will axe 33 sites and revamp its menus in a bid to turn its fortunes around. It also axed its chief executive Danny Breithaupt in August as a result of poor trading, replacing him with former Paddy Power boss Andy McCue, who takes up his post this month.
The Restaurant Group admitted that it had let prices drift too high at its key Frankie & Benny's brand in recent years, and had replaced favourites like chicken parmigiana with more "authentic" dishes that proved less popular.
Restaurant Group chairman Debbie Hewitt said: "We scored a lot of own goals over last three years. We can fix those."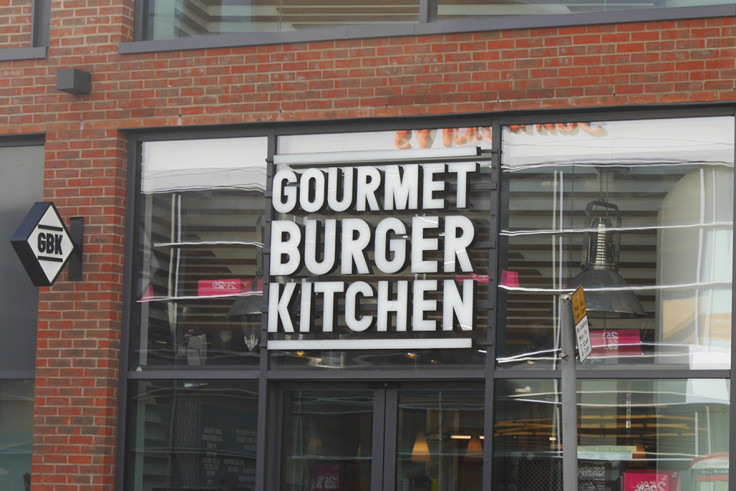 Average lunch prices in this sector come in at around £13 per head, while dinner costs £19, according to MCA.
Pizza Express, with over 430 outlets, also said last month full-year like-for-like sales slipped 1.3% reflecting "a more challenging year for the UK casual dining sector" and "a more cautious consumer".
However, the business owned by Beijing-based buyout group Hony Capital, said revenues at the chain jumped 14.1% to £488m as a result of opening more UK and international outlets.
The chain, founded 51 years ago is one of the pioneers of this market, pointed to the "rapidly growing home delivery market" as an area it was responding to with the signing of a deal with delivery service Deliveroo in May after scrapping its own service earlier in the year.
By contrast the takeaway food market is showing no signs of hunger pains. Domino's Pizza posted record trading in the first half of the year in July with sales jumping 17% to £495m and pre-tax profit lifting 21% to £41m, with the group pointing to "a booming food delivery market".
Just Eat, the online takeaway food service that lets diners order food from 27,000 UK restaurants, raised its full-year forecasts after it said in May that like-for-like orders rose 41% in the first three months of its year compared to 12 months ago. The FTSE 250 firm raised its annual earnings by £4m to between £102m and £104m.
Home delivery competition
Competition from the expanding home delivery market is eating into the casual dining market that has enjoyed years of unbroken growth.
"The pace of growth in the casual dining market is going to be a little soggy over the next year or so," says Horizons managing director Peter Backman.
"Branded restaurants pushed out poorly-run independents after the last recession. But over the next couple of years competition will be intense and sales will be harder to come by as operations will have to be more finely tuned than ever."
The battle between restaurants and delivery services who want to tempt consumers into a night in, or a night out looks set to hot up.