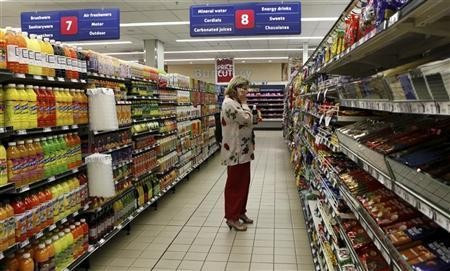 Britain's high street, which has already been suffering from large-scale job cuts and store closures from retailers including Comet, is likely to take another hit with retail sales growth expected to slow down in the Christmas season.
A survey from the Confederation of British Industry (CBI) revealed that growth in UK retail sales volumes has slowed down year-on-year in early December. Additionally, year-on-year sales growth in the first half of December has fallen short of retailers' own expectations.
"This month's survey hasn't quite provided the Christmas cheer that retailers anticipated, with sales growth falling short of expectations," said Anna Leach, CBI's head of economic analysis.
"Clearly, weak spending power and uncertainty over the economic outlook are likely to remain key risks to the retail sector in 2013."
In the survey, 36 percent of retailers reported an increase in volume of sales compared to a year ago, while 17 percent indicated a decrease.
Though the resulting balance of 19 percent reporting a year-over-year increase is broadly in line with CBI's long-run average 21 percent, it was a sharp decline compared to the figure of 33 percent reported for November and retailers' expectations of 25 percent.
The pattern of sales growth decline is expected to continue in January 2013, according to the survey. Only a net 10 percent of retailers in the survey expected a year-on-year rise in sales volumes in January.
"The CBI distributive trades survey for December was weaker than expected, fuelling concerns that retail sales are lacklustre so far over the vital Christmas period. This is particularly worrying news for retailers, and it does not do much for overall growth hopes for the fourth quarter," said Howard Archer, chief UK economist at consultancy IHS Global Insight in a research note.
However, Archer said that the retail performance was "not disastrous".
"On-going economic fragility is maintaining the squeeze on household incomes, and it's notable that sales are below par for the festive season," said Judith McKenna, chair of the CBI Distributive Trades Panel, commenting on the survey results.
Purchasing power of the consumers had been hurt by the rising consumer price inflation which climbed to 2.7 percent in November from September's low of 2.2 percent. Meanwhile, earnings growth slowed down in September and October, noted IHS Global.
Due to the squeeze on incomes, consumers are putting restrictions on their purchases and leaving their present buying until last moment.
There may be a "battle of wills" taking place between consumers and retailers, noted Archer.
"Many consumers may be holding off from doing their Christmas shopping until virtually the last moment in the hope that worried retailers will offer more and more discounts and promotions. However, many retailers may be reluctant to do so due to the hit that their margins will take and are holding firm in the hope that many consumers will buy at the last minute".