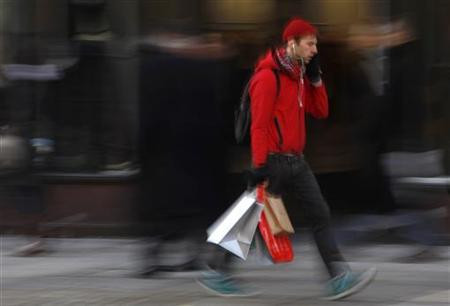 Retail sales slowed between March and April as new data is released by Office of National Statistics.
Predominantly food stores showed no growth at all, whilst non-food stores was responsible for most of the increase.
Figures followed last month's trend which saw non-food sales outpace food growth as DIY and healthcare products sold the most.
This time within predominantly non-food stores, clothing and footwear grew 2 pct outpacing household goods which saw a fall driven of 1.7 pct driven by sales at DIY stores.
Year on year, the volume of retail sales in April was 1.8 pct higher whilst food stores was 1.7 pct higher, and non-food 5.9 pct higher.
This compared favourably with March's figures which were significantly higher than last year also.
"With debt-laden households being squeezed by falling real wages, and a major fiscal tightening on the way -- probably including a further rise in VAT -- the outlook for consumers, and hence retailers, remains far from rosy," said Jonathan Loynes of Capital Economics.
"We expect the VAT hike to come in some time in the Autumn, so that will probably tend to accentuate the deteriorating volumes/price split we are seeing at the moment," added Ross Walker, economist at RBS.
"April's relatively modest growth in retail sales suggests that the consumer is alive but not kicking particularly hard," said Howard Archer, chief UK economist at IHS Global Insight.