Retina iPad Mini Benchmarks 5x Faster than Original iPad Mini in Geekbench 3
Retina iPad mini clocks 7% slower than iPad Air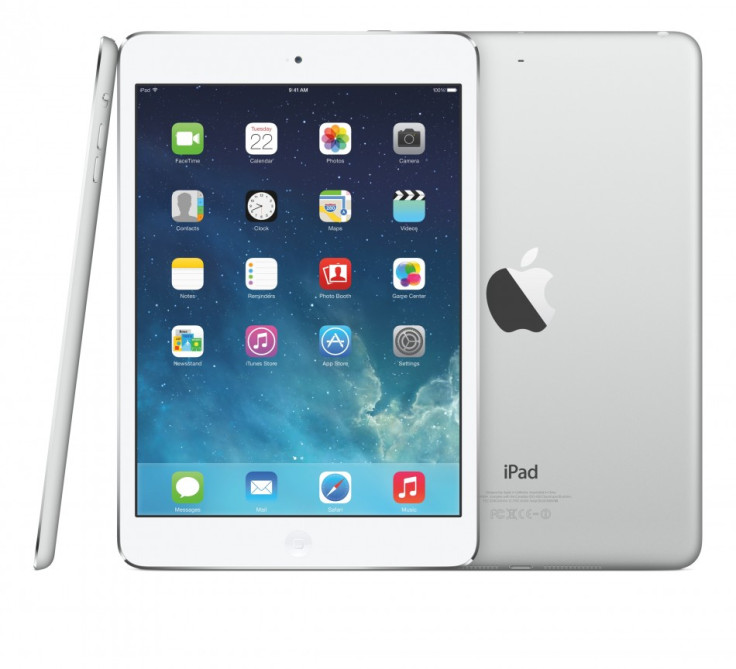 Recent Geekbench 3 benchmarks conducted by John Poole of Primate Labs suggest that the new Retina iPad mini is five times faster than the original iPad mini, but 7% slower than its elder sibling, the iPad Air. The benchmark report further indicates that Retina iPad Mini's slower performance is due to its underclocked processor (1.3GHz A7 chip) in comparison with the iPad Air's 1.4GHz A7 chip.
It is still unclear why the new iPad mini ships with an underclocked processor, but Poole hints it could be due to its smaller battery or smaller chassis (less cooling). Both the Retina iPad mini and iPad Air pack similar hardware configuration including the same A7 processor and M7 motion coprocessor, which justifies the fact that they deliver nearly identical performance in Geekbench 3 single-core and multi-core processor benchmarks.
In other words, the slower clock speed of new iPad mini does have an impact on its performance against the faster iPad Air. In the real world tests though, the difference would be barely noticeable as both the devices run on the same processor and similar hardware components.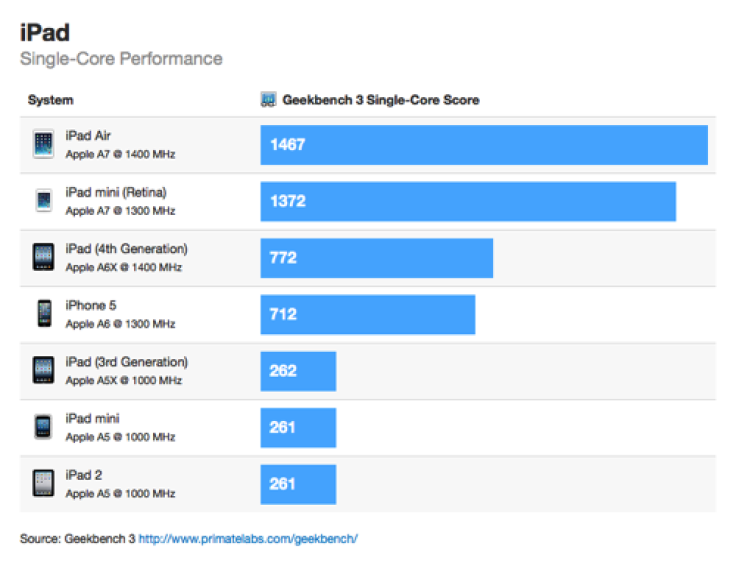 The Geekbench browser benchmark results confirm that the Retina iPad mini delivers the same processor clock speed as the iPhone 5s with a score of 1372 points in single-core performance and 2486 points in multi-core performance. iPad Air tops the benchmark charts in both single and multi-core performance results with scores of 1467 points and 2659 points respectively.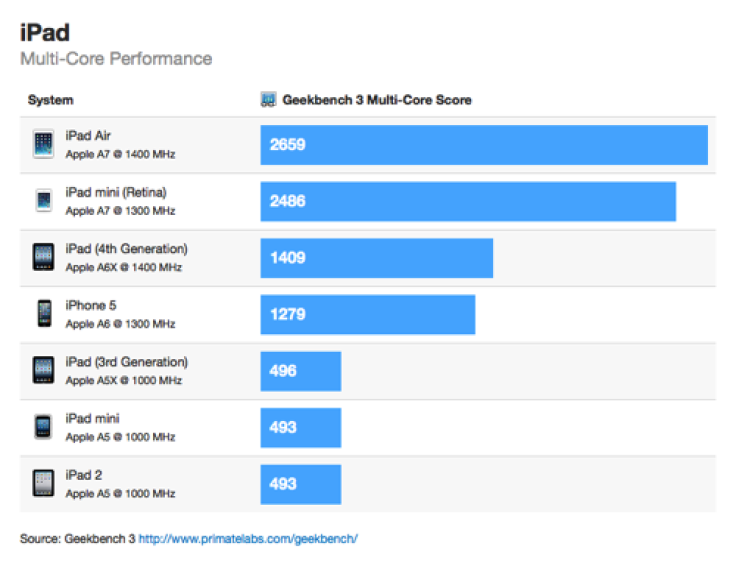 In contrast, the original iPad mini running on the A5 chip secures the same scores as the iPad 2 with 261 points and 493 points in single and multi-core performance results for Geekbench browser benchmark.
To sum up the benchmark results, here is what John Poole cites on his blog at Primatelabs.com:
"The new iPad mini is substantially faster than the original iPad mini with an over 5x increase in performance. Given that the iPad mini has the same processor found in the iPhone 5s and the iPad Air, this isn't terribly surprising.
"However, the new iPad mini is 7% slower than the Air in both single-core and multi-core tests. While the difference is significant, I don't think it's significant enough to warrant purchasing an Air instead of a mini for performance alone. Also, since I expect developers to still support the iPad 2 and the iPad mini for some time I don't expect much software will take advantage of the A7 processor to the point where that 7% difference will matter."
© Copyright IBTimes 2023. All rights reserved.