Revealed: This is Faraday Future's 1,000hp electric car ahead of its CES launch
This is the outlandish concept car Faraday Future (FF) will show off at CES in Las Vegas. The vehicle was leaked through an application produced by FF which hit the iOS App Store early and was subsequently pulled.
But IBTimes UK has been able to independently confirm that this is what FF will reveal at its press event on 4 January. Looking more like a new Batmobile than a rival to the Tesla Model S – as FF was at first expected to produce – the all-electric car is said to have 1,000 horsepower and is able to drive itself.
A reliable source familiar with Faraday Future's plans told IBTimes UK that, although the car will be shown off at CES, it is not functional and does not drive. This is often the case for such extreme concept cars, which are built as a demonstration of what a company is capable of; design cues from this car may well appear in FF's production cars, but this one will not be sold to consumers.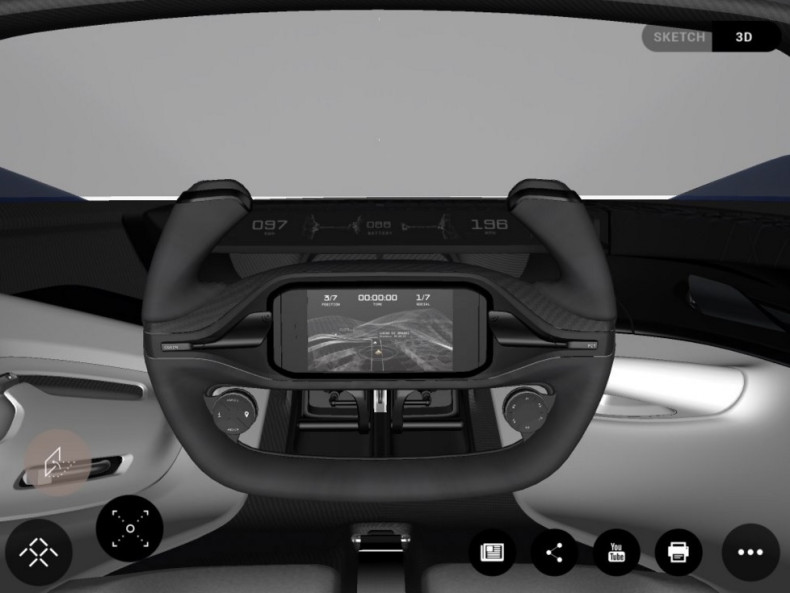 Agreeing with this statement, the source said the car will "probably not" be built in its current form or "arrangement" – referring to the layout of driver sat in front of passenger, like in the cockpit of a fighter jet. The source added that "maybe a shorter, more aerodynamic two-seat version for Pikes Peak" could be built, referring to the annual 12.4-mile hill-climb race which takes place on Pikes Peak in Colorado.
The source added that FF's claims of the car producing a Bugatti Veyron-rivalling 1,000hp are "theoretically" possible, "but now even more challenging now that Porter Harris has left." Harris, the company's chief battery architect, left FF just before CES, according to his LinkedIn profile. He previously worked at Elon Musk's SpaceX and in the aerospace industry.
The leaked images in this article came from an iOS application produced by Faraday Future and which was made available on the App Store a day before the announcement in Las Vegas. Twitter user SuperAnnuation downloaded the app and took the screenshots you see here.
Faraday Future will formally reveal its car, described as "a concept inspired by our design and engineering vision," at 8pm on 4 January local time (4am GMT, 5 January).
Richard Kim, head of design and lead designer of the BMW i3 and i8 concepts, says FF will launch one car at first, then add another six to its portfolio. It is understood that the company will offer an on-demand system to meet its customers' needs; rather than selling them a single car, the company will provide the type of vehicle needed on a particular day. For example, customers might want a small city car during the week, then a larger family car at weekends.
FF says it will "launch with fully-electric vehicles that will offer smart and seamless connectivity to the outside world...we are also developing other aspects of the automotive and technology industries, including unique ownership models, in-vehicle content and autonomous driving."