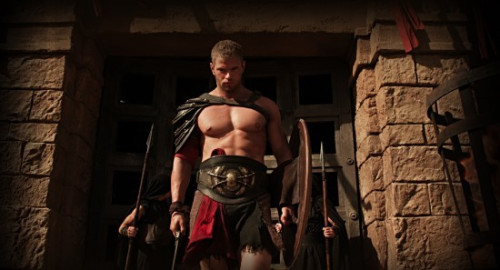 The Legend of Hercules already seems to have lost the battle for box office glory against its rival film, Hercules: The Thracian Wars which is set to release in July 2014 and stars Dwayne 'The Rock' Johnson.
The film has opened to negative reviews from critics all over. Reportedly, the film fails in mostly all areas including plot, performance, VFX and content.
Director Renny Harlin's The Legend of Hercules stars Kellan Lutz (the Twilight saga) as the son of Zeus, a demigod born with incredible strength.
Born the stepson of a mad king, Amphitryon (Scott Adkins), Hercules is exiled and sold into slavery because of his forbidden love with Hebe (Gaia Weiss), who is already promised to Hercules' deceitful half-brother Iphicles (Liam Garrigan), states the IGN review.
"On paper, The Legend of Hercules doesn't sound half bad, but it's far from quality entertainment. The film has many problems, not the least of which is its leading man, whose beyond-wooden acting hinders the story at every turn," says Max Nicholson of IGN.
Here's what critics have to say about The Legend of Hercules:
The film follows his journey as he comes to terms with his true identity. Talking about the film's screenplay (by Sean Hood and Daniel Giat), Martin Tsai of the LA Times notes that it plays by the book and includes every mandatory plot point of the genre imaginable: illegitimate child, sibling rivalry, love triangle, slave trade, mud wrestling, public lashing and epic battles.
The film doesn't really stand out in terms of visual effects as well. "The videogame-inspired visuals complete with junky 3D are unexceptional. But no scene is safe from the slo-mo, be it horseplay, foreplay or lion-wrestle," says the NY Daily News review.
According to USA Today, it seems the only good thing about the film is the nostalgia factor. There is a nod to classics like Ben-Hur and Spartacus as Hercules rows slave ships and crosses vast desert expanses.
Regarding the final verdict; The Legend of Hercules may not be the worst film in its genre, but in terms of delivering a solid entertainer about the mythical Greek hero, this film misses the mark completely, as per IGN review.