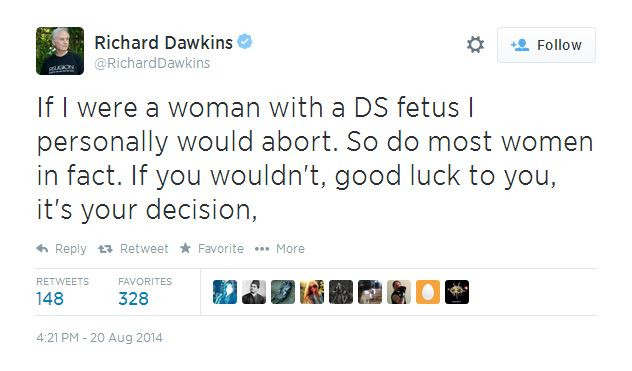 Richard Dawkins is no stranger to causing controversy on Twitter, but comments he made on Wednesday night about Down's Syndrome babies are perhaps his worst yet.
The scientist, author and famed atheist claimed on the social media network it would be "immoral" to carry on with a pregnancy if the mother knew the foetus had Down's Syndrome.
After becoming embroiled in a Twitter row with another user who said they would be faced with a "real ethical dilemma" if they became pregnant with a Down's Syndrome child, Professor Dawkins tweeted: "Abort it and try again. It would be immoral to bring it into the world if you have the choice."
He faced a backlash for his comment, with one mother who has a child with the genetic condition saying: "I would fight til my last breath for the life of my son. No dilemma."
Dawkins later defended his contentious views, saying he would not apologise for "approaching moral philosophic questions in a logical way".
His comments attracted the attention of Channel 4 News presenter Krishnan Guru-Murthy who tweeted: "Oh dear, Richard Dawkins just became indefensible".
Other users defended Dawkins however, with some agreeing with his assertion that there is a difference in deciding to terminate a pregnancy and suggesting after a child is born that it should have been aborted.
The Down's Syndrome Association (DSA) issued a statement today in response to Dawkins' comments. They said: "People with Down's Syndrome can and do live full and rewarding lives, they also make a valuable contribution to our society.
"At the DSA, we do not believe Down's Syndrome in itself should be a reason for termination, however, we realise that families must make their own choice."
Dawkins has previously angered people on Twitter for saying the world's Muslims had, together, won fewer Nobel Prizes than Trinity College, Cambridge.
Last month he came under fire for tweeting that "date rape is bad, stranger rape at knifepoint is worse" and contrasting "mild" paedophilia with "violent" paedophilia on Twitter.