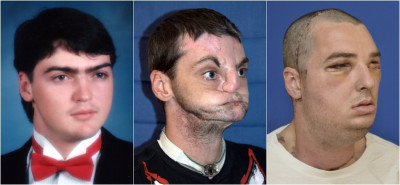 A gun accident victim has successfully undergone a most extensive full face transplant surgery in the US.
Richard Lee Norris from Hillsville, Virginia, was injured in a major gun accident in 1997. He was shot in the face and lost his nose, lips and most movements in his mouth.
Since then, he has had multiple life-saving and reconstructive surgeries but none could repair him to the extent where he felt he could return to society. He wore a prosthetic nose and a mask even when entering hospital for the transplant, reported Reuters.
Last week doctors from the University of Maryland Medical Center performed an extensive full face transplant surgery. They carried out the 36-hour operation and say it was part of a series of transplant operations lasting 72 hours, using organs from one donor in five patients including, Norris, according to BBC.
The officials at the medical centre said on Tuesday that Norris has been recovering well after the surgery. The team is already brushing his teeth and shaving. Norris has also regained his sense of smell, which he had lost after the accident.
Click on start to look at combination photos showing face transplant patient Richard Norris and five others before and after the surgery.
Must Read: Brad Pitt and Angelina Jolie Get Waxed: 12 Other Celebrity Wax Figures [PHOTOS]