Fans of pop star Rihanna are celebrating the 10th anniversary of one of her biggest singles, Umbrella. Released on 29 March 2007, the catchy song, featuring Jay Z, spent several weeks at number one around the world and propelled the promising Bajan singer to superstar status.
A decade later, Rihanna, 29, is a bona fide diva with lucrative ventures in all corners of entertainment. With that in mind, just how much is Rihanna worth?
Forbes senior editor, Zack O'Malley Greenburg, told IBTimes UK: "While Rihanna's net worth is not high enough to land her on our list of America's wealthiest celebrities – the entry point for the top 20 is $360 million (£288m) – she continues to be one of the world's top-earning entertainers on an annual basis thanks to multimillion-dollar endorsement deals, touring and music."
O'Malley Greenburg continued: "If she keeps up this pace – over $100 million in pre-tax earnings in the past two years alone, by our count – she has a good chance of one day joining the ranks of the very wealthiest celebs out there."
How much is Rihanna worth?
In November 2016, Forbes named Rihanna one of the highest-paid women in music after she raked in an estimated $75m the previous year alone, mostly thanks to her endorsement deals with Puma, Dior and Stance Samsung. Here's what Rihanna is likely to be earning from those deals individually...
Puma
The Work singer signed to Puma in 2014 with the sports giant hoping to broaden their audience and attract younger customers. At the time of her signing, the New York Daily News reported that the contract was worth just over $1m.
In February 2016, reports claimed Puma had raked in close to an estimated $1bn with credit to Rihanna's line for boosting sales and interest. Puma CEO Bjorn Gulden said at the time: "She can sell sneakers and Puma is onto something here which we haven't seen yet in the women's area."
Details of Rihanna's deal with Dior is being kept under wraps.
Fashion and beauty ventures
In April 2016, it was reported that Rihanna signed a $10m deal with the Kendo division of LVMH Moet Hennessy Louis Vuitton to create her own beauty products. The range, Fenty Beauty by Rihanna, is slated to launch in Sephora department stores in autumn 2017.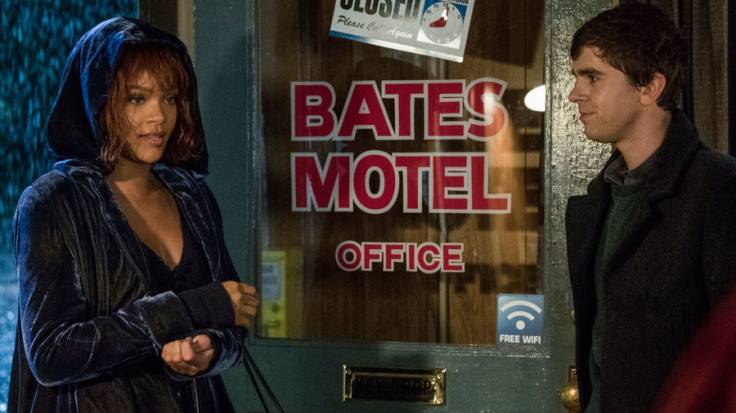 David Suliteanu, CEO of Sephora, told Women's Wear Daily optimistically: "Fenty Beauty by Rihanna is a beauty rocket ship that will appeal to a huge and diverse global audience. We are aiming for the stars. Kendo is honored to work with Rihanna."
Music
Rihanna is the 11th most-listened-to artist on Spotify with 28.3 million monthly listeners.
Work, featuring Drake and released in 2016, has received over 654 million streams on Spotify, which equals to approximately $2.6m in royalties. The current streaming stats for Rihanna's other popular singles, Needed Me with 458 million and FourFiveSeconds with 372 million, mean the singer is likely to be earning additional royalties in excess of $3.2m.
Watch Rihanna's Umbrella music video:
Umbrella has clocked up 102 million streams on the service so Rihanna's record label is probably earning $408,000 in royalties – the pop star is not listed as a writer or producer on this particular song.
Movies and TV
Since 2012, Rihanna has had small roles in Battleship, This Is The End, Annie, Home, Bates Motel and is set to star in the upcoming Ocean's Eight. The singer's salary for these roles are not revealed but each film has performed well at the box office.
Watch Rihanna's Work music video: