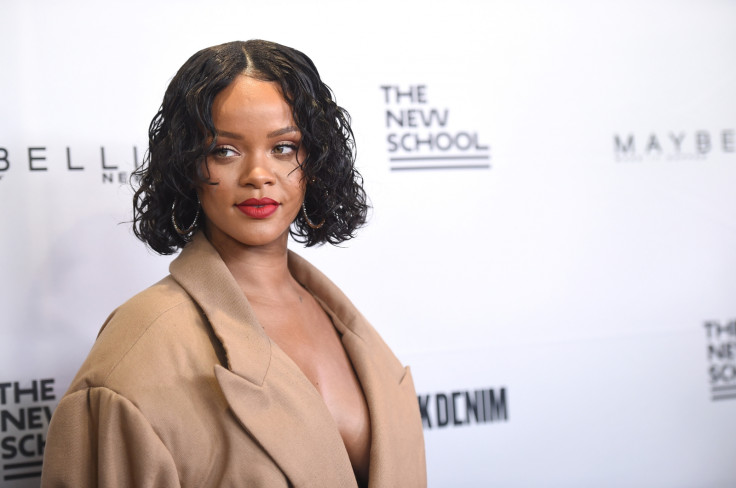 Rihanna is no stranger to being a subject of online speculation especially when it comes to her private life. But a recent picture of the Barbadian songstress has left her fans wondering if she is hiding a baby bump beneath the layers of her loose-fitted clothes.
The latest pregnancy debate began over a recent picture of Rihanna that shows the 29-year-old singer flaunting a fuller figure than usual in ripped denims and a button down shirt. Since hitting Instagram, the image has become the talk of the town with many speculating baby news around the corner.
Tabloid reports have gone as far as to debate over a prospect baby daddy – with Drake's name cropping up every now and then – even though Rihanna herself has not confirmed anything.
"Is she pregnant" seemed the question every curious fan was asking while another Instagram user wondered "who the babydaddy tho (sic)."
Adding to the round of speculations, an Instagram user even wrote that Rihanna is "pregnant and the baby daddy [is] chris brown." Indeed, the Work hitmaker and the rapper share a history – they were dating on and off between 2009 and 2015 – but the whirlwind comments right now seem to be based just on speculations.
As many fans talked about the pregnancy rumours, some came to Rihanna's defence claiming that the pop star is just rocking her fuller figure.
"Watch and learn people, this is what thick should look like. Rihanna put weight on in all the right places, but she is still toned. Toned arms and legs. No flab poking out. No double chin. Just perfect," a fan shared in the comments section.
While another added, "Listen people we need stop worrying about other women putting on a little weight. In the Caribbean she is just fluffy and healthy. Leave her alone KMT."
"I'm glad that Rihanna has gained a lil weight it looks good on her," said yet another.
This is, however, not the first time when the songstress has found herself at the centre of baby rumours. Gossip Cop quashed a report last year that sensationally claimed Rihanna might be expecting a baby with Prince Harry.