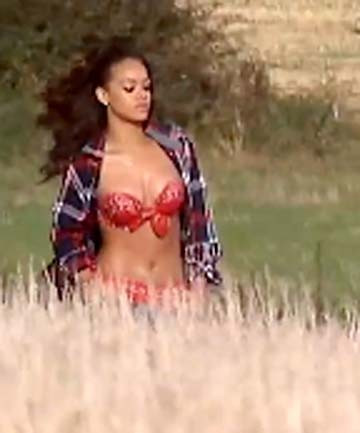 Rihanna's newly filmed dance video in an area of Belfast has been criticized by the lands owner over its inappropriate nudity.
The sexy video for her latest single, "We Found Love", with Scottish DJ Calvin Harris, was filmed on field in Northern Ireland owned by farmer Alan Graham, 61.
After agreeing to allow the 23-year-old singer to use one of his fields in Bangor, County Down for recording, despite never having previously heard of her, Graham interrupted the filming telling her to cover up and find God.
The Telegraph cites "I wish no ill will against Rihanna and her friends. Perhaps they could acquaint themselves with a greater God."
Graham said: "Someone explained she was as big as it gets as far as pop stars were concerned. I am a bit illiterate about those issues" cites the Mail Online.
Commenting on why he stopped the shooting, Graham commented: 'I realised things had got to a stage which was not acceptable to me. Things became inappropriate and I asked the film crew to stop" cites the Mail Online.
Interestingly, this incident is added to what it now become a long line of controversial incidents the Grammy award-winning singer is becoming known for.
Her pre-watershed performance on last year's X Factor final, which was watched live by more than a million young children, led to ITV being flooded with complaints from shocked viewers.
The particular scene which is at the centre of a farmer Graham's fury was when the singer went topless. The Mail online reports Graham spotted her stripping down to a bikini made up of red handkerchiefs.
Graham, who owns 60 acres at Clandeboye outside Bangor, said: 'There was no firm arrangement about borrowing the field.
"Everything that was going to take place was not made clear to me."
Understandably shocked, the father-of-four and member the Democratic Unionist Party on North Down Borough Council asked for filming to be halted.
It also seems that a misuse use of permission was carried out by Rihanna and her team as farmer Graham had agreed to the filming but was not aware what the production team had in mind for the star.
A reporter for the Belfast Telegraph yesterday asked the Barbados singer, real name Robyn Rihanna Fenty: "Rihanna, what do you think of the DUP farmer and what he had to say to you?"
To which Rihanna replied: "He was great," cites RTE.
Although initially feeling anger by the inappropriate use of his property, all seems to have been resolved as Graham said: She understood where I was coming from. We shook hands and parted company on good terms" cites the Mail Online.
Not all that seems to await is payment as Graham commented 'I have not received any payment at this moment in time and I don't know if I will be paid" cites the Mail Online.
See a clip of Rihanna's sexy posing on the Belfast location below: