BlackBerry maker Research in Motion saw its share price rise more than 17 percent on Thursday, as analysts gave positive predictions for the struggling company's future, but there are still concerns that the upcoming BlackBerry 10 OS won't be enough to save it.
RIM's share price jumped 17.3 percent from $12 to $15 (£7.50 to £9.40) on 22 November, after National Bank analyst Kris Thompson said he believed that there was money to be made from RIM stock ahead of the launch of BlackBerry 10 and two new smartphones in early 2013.
This vote of confidence for the Canadian company came just days after Jefferies & Co analyst Peter Misek, who had been one of RIM's strongest critics, raised his rating and price target of the stock.
Thompson has an "outperform" rating on RIM stock and said he raised his price target due to the "positive sentiment building in the industry" ahead of the first quarter launch of BB10.
"The new management team is executing by maintaining the BlackBerry subscriber base, managing costs and cash, and seemingly readying a February 2013 BB10 global platform launch," Thompson said in a note to clients.
Shipments
Thompson expects RIM to ship 35.5 million devices in the 2014 financial year, up from his previous estimation of 31.6 million; RIM shipped 7.4 million devices in the most recent quarter, which ended on 1 September.
"The shipments boost reflects about one more month of BB10 product availability plus a little extra for the positive sentiment building in the industry from our discussions," Thompson said.
The share price rose to its highest level since May on the Toronto Stock Exchange, representing the biggest percentage gain since April 2009, when the price was helped by the company beating market expectations.
Earlier in the week, Misek said a warm reception from telecom companies to the upcoming devices and operating system was why he lifted his rating and price target for RIM.
Blackberry 10 is seen as a make-or-break moment for RIM, which has seen its stock tumble 90 percent since its record high of over $148 in 2008, as the company was caught off-guard by the iPhone and Android devices, which have taken the smartphone market into a league where RIM is unable to compete.
The company said recently that it's BB10 operating system and two new smartphones will be announced on 30 January, with stock arriving on the shelves around mid-February.
Volatile stock
While Thompson and Misek are optimistic of RIM's future, other analysts remain less confident. Telecoms analyst Troy Crandall predicted this week that there is only a small possibility that BB10 will take consumers away from Apple and Android devices.
"It's not that we're super hopeful that this is going to work out...There is hope being built in that there's a chance it could work out," Crandall said.
The analyst went on, addressing RIM's 17 percent stock surge on the Canadian stock excahnge which came while American markets were closed for Thanksgiving:
"Stocks should not have this type of volatility unless there's something extraordinary going on below the surface...I think that's really what you're getting and a lot of that is coming from the short selling and it's magnified by the fact that the US markets are closed."
Crandall warned that investors could be in for a "nasty little surprise" on Friday, when RIM's share price will likely increase on the New York Nasdaq exchange, where the majority of RIM's stock is traded.
At its annual developer conference in September company CEO Thorsten Heins showed off a new build of BB10 called Alpha Dev B and detailed how the new operating system offers a flowing experience rather than an "in and out" system as used by other mobile systems.
"Nobody should have to worry about opening apps," Heins said, adding: "They should just be there."
Instead of switching from one application to another, users can slide in their email inbox from one side, 'peak' at its content, then carry on with what they were doing, and the same can be done for notifications too.
RIM is calling this ability to view everything with a swipe the BlackBerry Hub, and this is what the company hopes will make its upcoming operating system different enough from its rivals that it will steal some market share from the dominant iOS and Android.
Blackberry London Leaked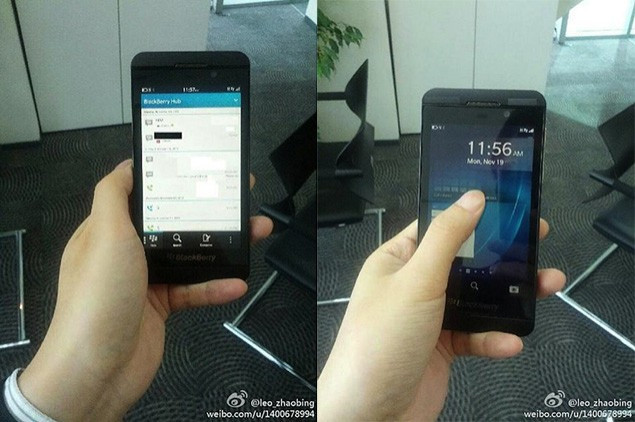 Also this week, photos claiming to be of the upcoming BlackBerry London (or L-Series) running the BB10 operating system leaked online.The phone ditches the famous physical BlackBerry keyboard and instead has a 4.2in touch screen, thought to have a resolution of 1280 x 768.