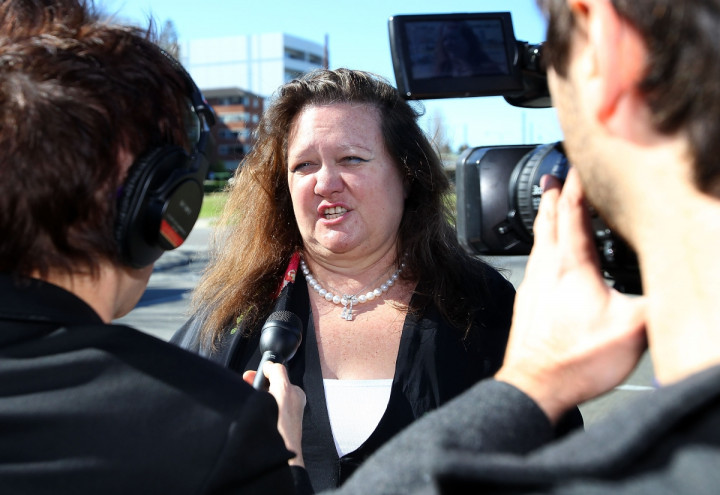 The son of Australia's richest woman Gina Rinehart called his youngest sister Ginia "intellectually disabled" and an "oxygen thief", a court has heard.
John Hancock, the son of the mining billionaire, said of his sister: "Tell Ginia to wear a bag over her head to cover up her genetic deficiencies," the New South Wales Supreme Court heard.
The court case is the latest battle over the control of the Rinehart family multibillion-dollar trust.
The feud, which has been going on for a number of years, began in 2011. The £2.7bn trust was established by Lang Hancock, Gina Rinehart's father. Gina was appointed trustee and her children, John, Bianca, Hope and Ginia, were benificaries.
They were supposed to receive tens of milllions when Ginia turned 25. However, Gina wrote to them four days before this date telling them they could not have the money. A court battle has been ongoing since, with only Ginia taking her mother's side on the feud. Hope has since withdrawn from the battle.
Bianca is currently looking to take control of the trust fund, with backing from her brother John.
In the court, Bianca was questioned on her brother's attack on Ginia, in which he called her a "moron", "oxygen thief", "intellectually disabled" and that she had "genetic deficiencies".
She defended her brother, saying: "He doesn't want to see the family business left to someone ... who is not up to it."
Bianca said the attack on Ginia was a result of concern about who would be taking over the family company.
The case, in Sydney, could determine who will replace Gina as trustee of the fund. It is the first time the family members have appeared in court.
Gina and Ginia want and independent trustee to be put in place. Bianca claims she has the best interests of the beneficiaries at heart.
"I'm here today and I'm prepared to act as trustee," she told the court, the Australian Broadcasting Corporation reported.
The case continues.