River Thames Pleasure Boat Crash: Five Injured and Hundreds Evacuated from Millennium Time Ferry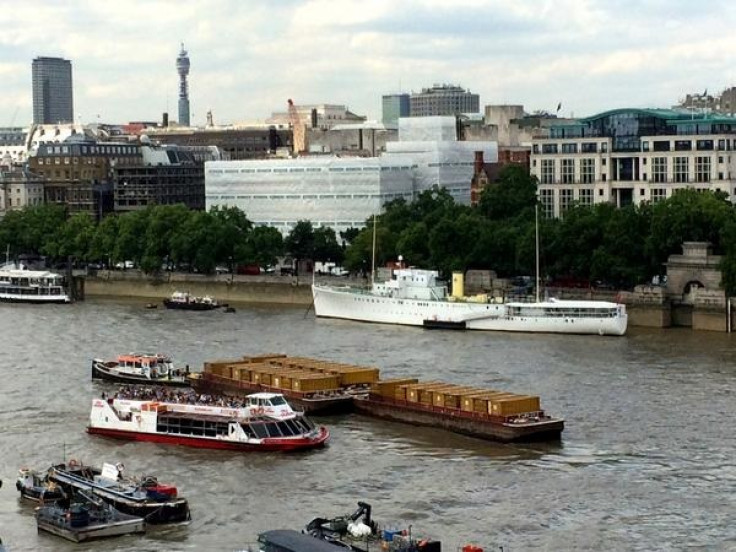 A passenger ferry hit a barge on the River Thames – injuring at least five people on board.
Two teenagers and three women were taken to hospital suffering leg and neck pains after the crash happened at 2.15pm opposite the Oxo Tower.
The 362 passengers on the Millennium Time ferry were taken to Festival Pier by another vessel where they were assessed for injuries.
A number of ambulances were spotted along the South Bank ready to take casualties to hospital.
The Met Police, Tower RNLI and the London Fire Brigade were also in attendance.
RNLI helmsman Steve King said: "We arrived on scene and saw the front of the passenger boat was pretty crunched up. As soon as we arrived I came alongside and put my crew aboard the boat so they could assess the needs of those on board.
"People were understandably somewhat shaken by what had happened. Nine people suffered minor injuries including a young boy with cuts to his shin and a lady with a swollen knee.
"The injured people were treated and then taken along with the rest of the passengers to Festival Pier, where London Ambulance Service paramedics were waiting.
"This kind of thing isn't an everyday occurrence on the River Thames but it is something we train for, as we do for all eventualities and emergencies.
"I am pleased we were able to get there so quickly and give assistance."
The bow of the pleasure boat Millennium Time operated by City Cruises was reportedly damaged in the collision with a tug and barges operated by Cory Environmental which ferries containerised waste along the river.
August is the 25th anniversary of the Marchioness disaster which led to a raft of improvements to London's river safety.
A Met spokesman said: "At this stage there are believed to be a small number of people with minor injuries including cuts and whiplash. Nobody from either vessel entered the water following the collision, and neither boat is believed to be at risk of sinking."
The cause of the collision is still not known and an investigation is now underway to find out the cause.
© Copyright IBTimes 2023. All rights reserved.