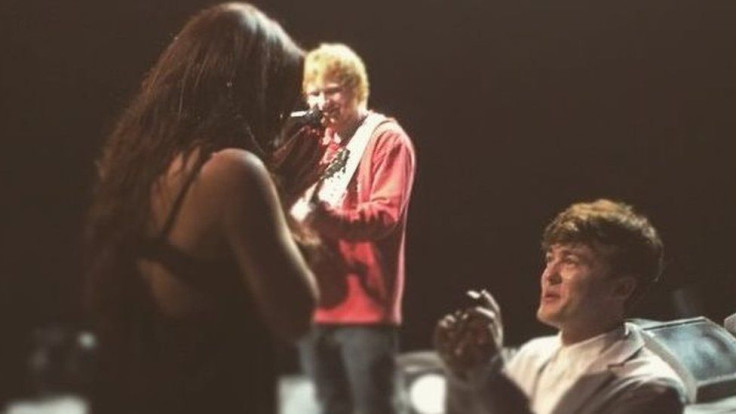 Little Mix singer Jesy Nelson and Rixton's Jake Roche are engaged.
Jake, 22, had a little help from his friend Ed Sheeran, as he popped the question on stage at Manchester Arena on Sunday (19 July).
Posting a picture on Instagram, Jake wrote: "A year ago today I met her at Manchester arena, so it was only right, with a little help from my friend, that this happened. Best day of my life."
The photo shows Jake down on one knee as he holds out the ring to Jesy, while Sheeran serenades them both.
Praising the Thinking Out Loud singer for the touching gesture, Jake wrote: "Travelled 5 hours to sing our favourite song on his day off. I will never ever be able to repay you. Love you pal. @edsheeran".
The engagement news came after Little Mix celebrated their first number 1 single since 2012 with their hit single, Black Magic.
The former X Factor winners headlined Thorpe Park's new music event Island Beats, as the news was announced. And Jake was there to share the celebration.
An eyewitness said: "Lots of the Little Mix fans got extremely excited when they realised Jake was in the crowd to support Jesy. He looked like a really proud boyfriend when the girls announced that Black Magic had reached Number One."
Rixton stars Lewi Morgan and Charley Bagnall congratulated their bandmate Jake Roche after he got engaged to Little Mix star Jesy Nelson.
Writing on Twitter they said it was "an honour" to be at Manchester Arena on Sunday, when the 22-year-old star proposed.
Lewi wrote: "Could not be happier for my brother! An honour to be there to witness you set the bar so high! Love you both! x"
Charley wrote: "My brother and best friend Jake Roche got engaged today to the most wonderful women, Jesy Nelson. I couldn't be happier for such a perfect couple. Love you guys!"
Fans of the singers also tweeted their message of congratulations with one fan saying: "Jesy Nelson you are one VERY lucky girl like I dreamt of something like that and you got it you should feel so damn lucky"
While Jake's mother Colleen Nolan has often spoken of her hopes that her son will tie the knot with his girlfriend, he had recently joked that he couldn't afford to propose to Jesy.
He told the Daily Mirror: "There are engagement reports but at the minute I can't afford a hot meal, let alone a ring!"
Ed and Jake became good friends after the singer asked Rixton to support him on his US tour.
The Rixton singer Jake said he was stunned when the flame-haired singer got in touch directly with the band to support him in the US.
"Usually when you do these things it has to go through both of your managers ... but Ed literally just sent me a text out of the blue and said "What are you doing on these dates?"
"And I replied saying we are recording in the studio, then he asked me if we would want to go out there and support him on tour in America. We were like "yeah of course" and it was just incredible you know?
"Going on that tour was amazing for us because we want to play to an older crowd and Ed Sheeran is great because he has worked so hard to build it up."
Jesy is the second member of Little Mix to get engaged, after Perrie Edwards became engaged to former One Direction star Zayn Malik in 2013.