The Republican National Committee (RNC) Chairman, Reince Priebus, believes the public does not care about all the negative stories surrounding likely GOP nominee Donald Trump. Priebus defended the bombastic real estate magnate during several morning shows on Sunday (15 May), claiming that the traditional campaign "playbook" does not apply to Trump.
The RNC chair answered questions regarding The New York Times report on Trump's treatment of women, as well as Trump's refusal to release his tax returns. The report, published on Saturday, 14 May, was based on 50 interviews alleging repeated mistreatment of and unwanted advances towards women by Trump.
Priebus told ABC's Jonathan Karl that the allegations "are things that [Trump] is going to have to answer for." However, he moved away from those comments in an interview on Fox News Sunday, with host Chris Wallace asking Priebus if the allegations bothered him.
"Well, you know, a lot of things bother me," the chair responded. "And obviously, I'm the wrong person to be asking that particular question."
Wallace quickly shot back. "Wait a minute. Why are you the wrong person? I mean, you are the chairman of the party. This is your nominee, and they're saying that he has mistreated women over the years," the news host said.
"I've got to tell you, I think that all these stories that come out—and they come out every couple of weeks—people just don't care," Priebus answered.
Trump has since denounced the New York Times' report. "Everyone is laughing at the @nytimes for the lame hit piece they did on me and women. I gave them many names of women I helped-refused to use," Trump tweeted. The likely GOP nominee also called out the media for not writing "the real story on the Clintons and women? The media is TOTALLY dishonest."
The RNC chair also discussed the ongoing debate over whether Trump should release his tax returns as major party nominees have in the past. On Friday (13 May), Trump maintained that voters are not entitled to review his tax returns and that the public was actually not interested them. Several Republican figures disagreed, but Priebus stood by the party's presumptive nominee.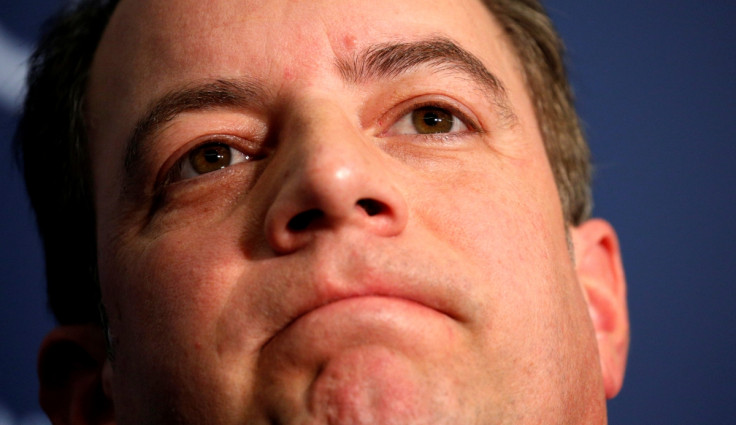 "I think though that Donald Trump represents such a massive change to how things are done in Washington that people don't look at Donald Trump as to whether or not he releases his taxes," Priebus told ABC. "Here's a guy that's never run for office. I don't think the traditional playbook applies, Jon. We've been down this road for a year. And it doesn't apply. He's rewritten the playbook."
Priebus then added: "I think people are judging Donald Trump as to whether or not he's someone that's going to go to Washington and she things up. And that's why he's doing so well."